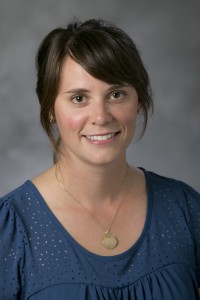 Policy Analyst for the Fisheries Leadership & Sustainability Forum at Duke University's Nicholas Institute for Environmental Policy Solutions
Based at the Duke Marine Lab in Beaufort, Caitlin Hamer is a policy analyst for the Fisheries Leadership and Sustainability Forum, a program of the Nicholas Institute at Duke University. The Fisheries Forum supports networking and provides continuing education, professional development, and leadership opportunities for members of the eight regional fishery management councils. Caitlin joined the Fisheries Forum staff in 2013, and helps oversee the growth and development of the Fisheries Forum Information Network and the online community it serves. Caitlin also provides research and event support for a broad range of Fisheries Forum projects.
Prior to joining the Fisheries Forum in 2013, Caitlin worked as a biologist for the Louisiana Department of Wildlife and Fisheries at the Grand Isle Fisheries Research Laboratory. She was chief scientist for the Nearshore Bottom Longline Project and assisted the Louisiana state representative on the Gulf of Mexico Fishery Management Council on state and federal management projects. Before relocating to Louisiana, Caitlin worked as a coastal educator with the North Carolina Coastal Reserve and National Estuarine Research Reserve on an estuary education and awareness campaign.
Caitlin received a B.S. in Biology from the University of New Hampshire and completed her Master's degree in Coastal Environmental Management at Duke's Nicholas School of the Environment. As a graduate student at Duke, Caitlin studied fisheries policy and worked with North Carolina marine educators on strategic planning and evaluating marine education facilities