Welcome to the Master's Project Handbook!
This site contains Master's Project (MP) guidelines and resources for Master of Environmental Management (MEM), Master of Forestry (MF), and Duke Environmental Leadership Master of Environmental Management (DEL-MEM) students.
The MP is a culminating hands-on experience and a graduation requirement for all Nicholas School MEM and MF students. Students apply the skills and knowledge they've acquired in the classroom to projects that tackle real-world environmental challenges, whether it be through independent research or a collaborative initiative with a partner organization. These projects are typically multidisciplinary in nature and may include a small team (2-5) of other professional students and an external partner, in addition to a faculty advisor. The final project deliverables can take many forms, but always include a written report and public presentation. Master's Projects are mutually beneficial, with students gaining additional academic and professional experience by collaborating with faculty or a partnering organization, and the faculty or partner receiving tangible research support at no cost.
Master's Project Objectives
Develop Analytical Capabilities
Conduct research
Design and carry out analysis
Synthesize data
Practice and Demonstrate Professional Skills
Teamwork (if applicable)
Project design and management
Stakeholder and client management (if applicable)
Communications (presentation and written)
Academic or technical writing: research, literature review and citations
Adaptability (learning from mistakes, risk taking, trial and error)
Produce Defined Deliverable(s)
Development of concrete deliverables
Presentation of results calibrated to general audience (Symposium or Capstone presentation)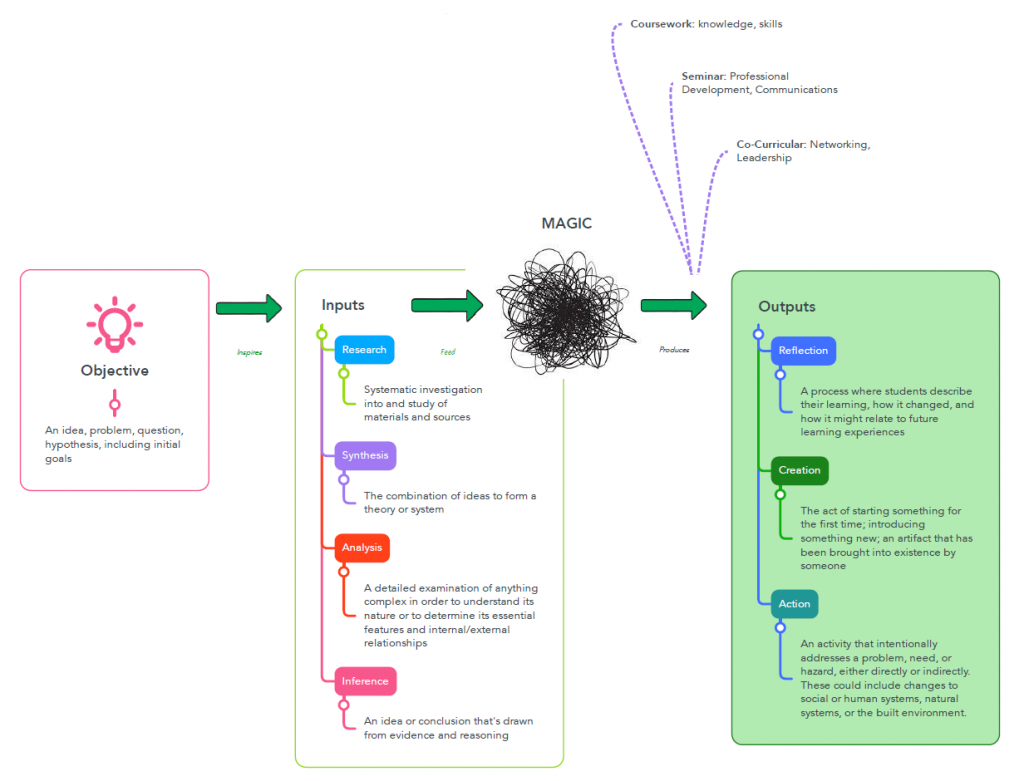 Project Structure
The majority of the MP topics originate from external partners, faculty, or a combination thereof. In some cases, students seeking an original or applied research experience may develop their own ideas.
The MP process can therefore take many forms. Some program areas or concentrations, like CAMS and EEH typically encourage students to pursue a 3 semester Master's Project (3S MP). These range from independent research, meaning one student will work on research under the direction of the MP advisor (typically a Nicholas School faculty member), to group research projects. Other concentrations use the 2 semester Master's Project (2S MP) structure. Students pursuing a 2s project will work with clients from a large list of proposals provided by faculty, Nicholas School and Duke alumni, and external partners. Projects are assigned to teams based on their top 3 choices. All MPs require a workload equivalent to that of 1.5 – 2 classes (i.e., 4-6 credit hours). Please note that concentrations that typically follow the 2S structure may allow for 3S projects, but there is a high threshold of acceptance of those proposals.
DEL Students
The DEL students follow the 3 Semester MP process. DEL students often do projects that stem from needs/ideas at their places of employment so we recommend working with supervisors/colleagues to develop your MP ideas. If you have any questions on this, please contact nsoe-mastersproject@duke.edu.
Master of Forestry Students
Along with upholding the requirements of the MP, Master of Forestry students must deliver a Master's Project that also satisfies additional guidelines set by the Society of American Forester's (SAF).
Please reference the appendix of Additional MP Guidelines for Master of Forestry (MF) Students for a more in-depth explanation of SAF requirements.
MEM/MF + MBA
Please note that MEM/MF + MBA students may fulfill their MP requirement in different ways. For more information, please visit the MEM/MF + MBA page. Students pursuing other dual degrees (e.g., MEM + MPP, MEM + MCRP) also complete a MP, but have options unique to their program.
2022 Fall Masters Project Symposium and MP Examples
For more examples of Master's Projects, please visit the Nicholas School Masters Project Page.