Fall 2019 Seminar Series (Pharm 847-S/ENV 847-S)
Duke University Program in Environmental Health & Toxicology
Friday, October 4, 2019, 11:45 am – 1:00 pm, Field Auditorium, Grainger Hall
The Legacy of Urban Soil Lead at a Household Scale: Perspectives & Data of an Environmental Toxicologist & Soil Chemist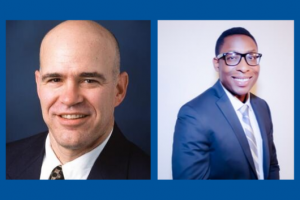 DAN RICHTER, PH.D.
Duke University Nicholas School of the Environment
EMMANUEL OBENG-GYASI, PH.D.
North Carolina A&T State University
Forty to fifty years after lead was removed from gasoline and paint in the USA, we review the environmental history and human exposure of legacy lead in soil. We describe two studies of legacy lead in Greensboro and Durham soils that will be the first maps of soil lead in cities in NC.
SPEAKER BIOGRAPHIES:
Dr. Daniel Richter's research and teaching links soils with ecosystems and the wider environment, most recently Earth scientists' Critical Zone. He focuses on how humanity is transforming Earth's soils from natural to human-natural systems, specifically how land-uses alter soil processes and properties on time scales of decades, centuries, and millennia. Richter's book, Understanding Soil Change, co-authored with his former PhD student Daniel Markewitz (Professor at University of Georgia), explores a legacy of soil change across the Southern Piedmont of North America, from the acidic soils of primary hardwood forests that covered the region until 1800, through the marked transformations affected by long-cultivated cotton, to contemporary soils of rapidly growing and intensively managed pine forests. Richter and his colleagues work to expand the concept of soil as the full biogeochemical weather system of the Earth's crust (ie, the Earth's belowground Critical Zone). Since 1998, Richter has worked at and directed the Long-Term Calhoun Soil-Ecosystem Experiment (LTSE) in the Piedmont of South Carolina, a collaborative study with the USDA Forest Service that quantifies how soils form as natural bodies and are transformed by human action, which has grown to become an international model for such long-term soil and ecosystem studies. In 2005, Richter and students initiated the first comprehensive international inventory project of the world's LTSEs, using an advanced-format website that has networked metadata from 250 LTSEs. Richter's 60-year-old LTSE is linked to similar experiments and platforms around the world via the Long-Term Soil-Ecosystem Experiments Global Inventory, assembled by Dan Richter, Pete Smith, and Mike Hofmockel. He is an active member of the International Commission on Stratigraphy's Working Group on the Anthropocene. Richter has written in the peer-reviewed literative about all of these projects, and his soils research at the Calhoun and his soils teaching were featured in Science magazine in November 2014.
Dr. Emmanuel Obeng-Gyasi completed his doctorate in Environmental Health and Epidemiology at Indiana University, Bloomington. He uses biostatistics, epidemiology, molecular biology, and analytical chemistry techniques to investigate the effects of environmental toxicants on the environment and populations. His research interests include: Metals and their effects on environmental and human health; environmental epidemiology; environmental and urban geochemistry; and global health.