Mariah Arnold (Richard Di Giulio, PhD) – Graduated in 2014
 I have a B.A. in Biology from New College of Florida, where I graduated in 2008. I am studying the effects of mountaintop removal/valley fill coal mining effluent on wild fish populations with a particular focus on selenium contamination in the Mud River, West Virginia. We determine both selenium tissue distribution using inductively coupled plasma mass spectrometry (ICP-MS) and speciation using x-ray absorption near edge structure (XANES) analysis. We characterize both short-term selenium accumulation using tissue burdens as well as long-term selenium exposure using otolith concentrations as determined by laser ablation ICP-MS. I use a simulated food chain consisting of wild-caught biofilms from the Mud River and laboratory-reared fathead minnows (Pimephales promelas) in an effort to understand both trophic and maternal transfer of selenium. Selenium induced deformities in fish have been previously demonstrated, although the mechanism for these deformities is not well understood. I am investigating the possibility that selenium induces oxidative stress in fish embryos using genetic tools and the zebrafish (Danio rerio). This work is a part of a larger collaboration at Duke University that strives to understand the human and ecosystem impacts of mountaintop removal coal mining in West Virginia. 
Contact: mariah.c.arnold@duke.edu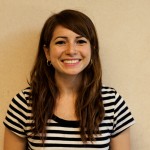 Audrey Bone (Richard Di Giulio, PhD) – will graduate in 2015
I received my B.S. in Chemistry from Clemson University in 2009 and am currently a Ph.D. candidate in the Di Giulio lab at Duke. My research has involved studying the use of microcosms and mesocosms to assess silver nanoparticle toxicity to fish in the natural environment and how degradation of PAHs using titanium dioxide nanoparticles affects their toxicity.
Contact: audrey.bone@duke.edu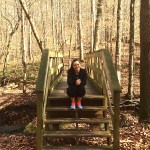 Jessica Brandt (Second year ITEHP student affiliating with Di Giulio & Bernhardt labs)
Jessica holds undergraduate and master's degrees from The Johns Hopkins University and came to Duke after a year abroad on a Fulbright research grant to Italy. She is interested in marine ecotoxicology and wetland conservation and restoration.
Contact: jessica.brandt@duke.edu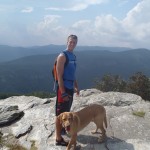 Daniel Brown (Richard Di Giulio, PhD) – will graduate in 2015
I graduated from Elon University in 2009 with a BS in Biology. My current research focuses on early life exposure to PAH mixtures in Fundulus heteroclitus and later life consequences. Our lab has worked extensively with acute embryonic exposures to PAHs in both F. heteroclitus and zebrafish; however, little is know about more subtle consequences of early life, low level exposures to PAHs. I am interested in this unique exposure period because of the mounting evidence suggesting that early life exposures during critical periods of development can have detrimental consequences that persist into adulthood. In addition, the project will incorporate the adapted killifish from the Atlantic Woods Industries Superfund site to investigate costs and benefits of the adaptation. This longitudinal project introduces both behavioral and performance based assays to better track the emergence of effects following early life exposure. Behavioral assays have been developed; a swim tunnel respirometer will be used to study performance in the exposed fish; and changes in fish morphology, as well as an assessment of energetic costs (mtDNA damage and mitochondrial function) associated with being an exposed Fundulus or an adapted Atlantic Woods Fundulus will be studied. 
Contact: drb30@duke.edu
Sonja Brun (Robert Wechsler-Reya, PhD): Graduated in 2014 – Studies the Role of Surviving in Medulloblastoma Tumorigenesis
Elizabeth Chan (Michael S. Krangle, PhD) – Graduated in 2013 (aligned postdoc)
Laurel Coons (Kenneth Korach, MD; Donald McDonnell, PhD): Laurel received her B.S. in Biology and M.S. in Biotechnology from the University of South Carolina. She is both a Ph.D. Candidate and IRTA Fellow. Defing the Molecular Pharmacology of Antagonist-Mediated ERα Activation: The term Selective Estrogen Receptor Modulators (SERMs) has been used of late to describe a group of pharmaceuticals that manifest estrogen receptor (ER) agonist activity in some tissues, but that oppose estrogen action in others. Thus, it may be possible to capitalize on the tissue-selective pharmacology of these drugs and develop them as treatments for estrogenopathies where it is desirable to direct therapy to a specific estrogen-responsive target organ. It has become clear in recent years that the different pharmacological activities of ERα antagonists, agonists and SERMs are determined by their impact on the overall surface topography of the receptor and the effect this has on the recruitment of functionally distinct coregulators. This realization has provided the impetus for research to define the specific ERα-coregulator interactions involved in the tissue-selective antagonist-mediated ERα activation and to exploit these findings to develop compounds with improved therapeutic utility.
Contact: laurel.coons@duke.edu
Xioaxing (Chelsea) Cui (second year ITEHP student affiliating with Dr. Junfeng Zhang's lab)
I am interested in airborne particles (particularly ultrafine particles and nano particles) in terms of both exposure assessment and health effect evaluation. I am also passionate about teaching and presenting my research to people who care about environmental pollution and its impact on human populations. I have a Master of Science in Public Health degree in Occupational and Environmental Hygiene from Johns Hopkins University (Baltimore, MD) and a Bachelor of Medicine in Preventive Medicine from Peking University (Beijing, China). Training from both institutions helped me greatly in understanding the link between environmental exposure and subsequent health effects. Upon graduation from the PhD program, I hope to continue my research on environmental hazards at an academic institution and teach related courses to students who share my interest in environmental sciences. 
Contact: xc59@duke.edu
Drew Day (Jim Zhang, PhD): Third Year Graduate Student with Dr. Junfeng Zhang. My research involves using rodent and human studies to evaluate practical interventions, including antioxidant therapies and filtration technologies, to the inflammatory and oxidative effects of urban air pollution exposure. I examine the efficacy of these interventions using blood, breath, and urinary preclinical markers in human trials, as well as similar markers, histology, and epigenetic analysis in rodent models. My hope is to identify an intervention that the average person living in an urban environment can use to reduce their risk of cardiopulmonary disease, allergies, and other diseases related to chronic inflammation. I received a B.A. in Asian Studies, a B.A. in Comparative Literature, and a B.S. in International Studies with minors in Biology and Chinese Language from the Schreyer Honors College at the Pennsylvania State University, graduating with joint honors in Forestry and Asian Studies. I spent a total of 15 months working in Beijing and Shanghai in environmental consulting prior to coming to Duke, gaining a professional proficiency in Mandarin Chinese. My research is largely conducted in China in urban areas with high air pollution.
Contact: dbd6@duke.edu
Laura Dishaw (Heather Stapleton, PhD):  Fifth Year – Focused on the evaluation of developmental toxicity and metabolism of the flame retardant, Tris (1,3-dichloro-2-propyl) Phosphate (TDCPP).
Mingliang Fang (Heather Stapleton, PhD): Fourth Year – Research involves the qualification and quantification of novel organic pollutants and metabolism of those compounds in vitro and in vivo.
Elizabeth Fleming (First year)
Claudia Gonzalez (Joel Meyer, PhD): Fourth Year – Studies the effects of environmental toxicants like rotenone, paraquat, and others on mitochondrial dysfunction and mitochondrial DNA damage and how it is related to neurodegenerative disorders, using the model organism C. elegans.
Meng He (Vann Bennett, MD, PhD): Researches mechanisms for Ankyrin-G targeting.
Rashmi Joglekar (First year)
Jordan Kozal (Second Year, Richard Di Giulio, Ph.D)
Jordan holds a Bachelor of Science in Biology from Stanford University. She is interested in mechanistic ecotoxicology— particularly aryl hydrocarbon receptor independent mechanisms of polycyclic aromatic hydrocarbon (PAH) mediated cardiotoxicity as well as their potential to act as selection pressures that underlie the mechanism for PAH resistance in adapted Elizabeth River Fundulus heteroclitus. She is also interested in the effects of remediation on the toxicity of PAHs in F. heteroclitus from contaminated sites.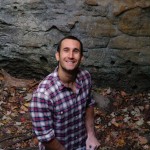 Christopher Leonetti (Heather Stapleton, PhD – Fourth Year)
Christopher graduated from the University of Michigan – Ann Arbor with a B.S. in Biology. He came to Duke University and joined the Stapleton lab where he studies PBDE flame retardants in human placenta tissue. Chris is interested in the relationships between these halogenated flame retardant compounds and thyroid hormone homeostasis.
Casey Lindberg (First year)
Brandon Logeman (Dennis Thiele, PhD – Fourth Year): Research is focused on exploring the roles of copper in eukaryotic cells.
Anthony Luz (Joel Meyer, PhD – Third Year):  I graduated with a B.S. in Biology from Cornell University in 2011. Before coming to Duke I spent a year working at the Hudson River Superfund Site, where I helped monitor PCB levels in areas of the river before and after dredging. I am now a second year doctoral student in Joel Meyer's lab, and am interested in how environmental exposures to various toxicants can cause mitochondrial DNA damage. More specifically, I am interested in how mitochondrial DNA damage can affect metabolism or induce epigenetic changes in the model organism Caenorhabditis elegans.
Contact: anthony.luz@duke.edu
Laura Macaulay (Heather Stapleton, PhD – Fifth Year)
Laura holds a B.A. from Wofford College in Chemistry. She studies the effects of brominated flame retardants and their metabolites on development and thyroid regulation using zebrafish (Danio rerio) as a model organism. Her dissertation title is: "Thyroid Hormone Dysregulation from Flame Retardant Exposure in Early and Juvenile Life Stages of the Zebrafish". 
Contact: laura.macaulay@duke.edu
Priyaanka Nanduri (Tso-Pang Yao, PhD) – Fifth Year ITEHP / Pharmacology and Cancer Biology
Anthony Oliveri (Edward Levin, PhD) – Fourth Year ITEHP / Pharmacology and Cancer Biology
Allison Philips (First Year)
Mamle Quarmyne  (John Chute, MD): Title of Research Project is "Protein Tyrosine Phosphatase Receptor Sigma (PTPσ) Regulates Hematopoietic Stem Cell Fate."
Latasha Smith (Joel Meyer, PhD):
Simon Roberts (Heather Stapleton, PhD – Graduated in 2014): Studies in vitro metabolism of brominated flame retardants.
John Rooney (Joel Meyer, PhD – Fifth Year): Investigates metabolic and behavioral effects caused by mitochondrial DNA damage in the C. elegans model.
Katherine Stencel (Lee Ferguson, PhD)
Katherine earned a degree in Chemistry from the College of Wooster. As a member of the Ferguson Lab, her research has focused on the identification of endocrine disrupting compounds in complex mixtures. Identification of compounds is performed by an estrogen receptor-affinity extraction during which compounds are selectively isolated by the receptor and identified by non-targeted, high-resolution mass spectrometry analysis.
Contact: katherine.stencel@duke.edu
Wei Chou Tseng (Vann Bennett, MD, PhD): Currently studying the role of alternative splicing in ankyrin-G and characterizing the isoform specificity of ankyrin-G protein.
Christopher Ward (Dana Hunt, PhD): Responses of coastal bacterioplankton to environmental perturbation by natural and anthropogenic events
Xinyu Yang (Joel Meyer, PhD – Graduated in 2014)
My dissertation research has three aims: 1) understand the mechanism of Ag NP toxicity using multiple tools including pharmacological, genetic, biomarkers and physical-chemical characterizations; 2) uptake and localization of Ag NPs in vivo; 3) Interaction between Ag NPs and other environmental variables. My laboratory work is mostly acute toxicity test (with both laboratory-made suspension and mesocosm samples), 3-d growth assay, histological examinations, biomarker analysis (DNA damage through QPCR, lipid peroxidation and GFP analysis for certain gene expression) and cooperating with CEE graduate student to analyze the physical-chemical properties (aggregation state, surface charge and silver dissolution). I use genetic analysis and pharmacological techniques to understand the cellular pathways involved in in AgNP toxicity, and we also looked at in vivo silver speciation using the synchrotron system.  My work has combined biological assays, histological examinations, aquatic chemical analysis and mathematical models. I hope my dissertation will contribute to the big picture of nanotoxicology and NP ecological risk assessment paradigm.
Contact: xinyu.yang@duke.edu
Shugun Yang (Christopher Counter, PhD):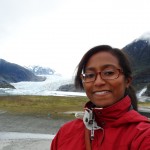 Lauren Wyatt (Bill Pan, PhD – Third Year)
Lauren holds a MS degree in Zoology from the University of New Hampshire and a BS in Marine Science and Biology from the University of Miami.  She is a second year ITEHP student and is interested in the impacts of early-life heavy metal exposure on later-life consequences, specifically concerning infectious diseases.
Contact: Lauren.H.Wyatt@duke.edu
Edward Zhu (Rebecca Yang, PhD)
We are interested in trying understand some of the neural mechanisms that govern simple decision making behaviors in the fruit fly, Drosophila melanogaster. We present flies with two egg-laying substrates and ask them to "choose" one to deposit their eggs. My thesis project is mainly concerned with how flies respond to UV when selecting an egg-laying substrate. We find that flies prefer to lay their eggs away from UV-illuminated substrates, suggesting that UV is an aversive stimulus in the context of egg-laying. Currently, I am examining how the visual system confers proper egg-laying preference. However, our ultimate goal is to elucidate the central mechanisms that lead to proper egg-laying output.
Contact: edward.zhu@duke.edu