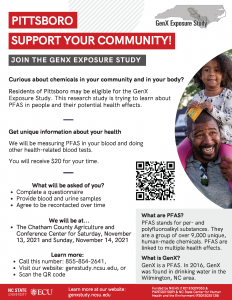 The GenX Exposure Study is coming to Pittsboro! Clinical data will be collected at the Chatham County Agriculture and Conference Center (1192 US-64 BUS, Pittsboro, NC 27312) on Saturday, November 13th and Sunday, November 14th.
People ages 6 and older who have used Town of Pittsboro or Aqua NC water for at least one year are eligible to participate. Up to four people per household can enroll. People who complete the clinic visit will receive $20 at the end of the visit.
Click the link below and answer all the questions to sign up and schedule an appointment!
Click Here to Enroll in the GenX Exposure Study
What will you be asked to do?
Complete a brief questionnaire;
Provide blood and urine samples; and
Agree to be recontacted over time.
What will we measure?
We will measure PFAS chemicals in your blood. We will also do a clinical lab analysis measuring lipid levels, thyroid function, and a comprehensive metabolic panel. Your individual results will be provided to you. Overall study findings will be shared with the community.
Who is conducting this research?
This study is being conducted by scientists at North Carolina State University and East Carolina University and funded by the National Institute of Environmental Health Sciences.
If you are interested in learning more about the study, please contact the study office by calling 855-854-2641 or sending us an email at genx-exposure-study@ncsu.edu. We will answer any questions you might have and will determine your eligibility to join the study. Please feel free to share this with your friends and neighbors.
Please note: This study differs from the PFAS in Pittsboro study we conducted in late 2019 as it will focus on urine and blood PFAS measurements and will not measure drinking water levels. We would also like to note that while the upcoming research study is titled "GenX Exposure Study", this does not mean that the GenX chemical has been found in high concentrations in Pittsboro water. The researchers leading this study began their research in the southern part of the Cape Fear Watershed, near Wilmington, NC, where GenX was detected in high concentrations in drinking water.