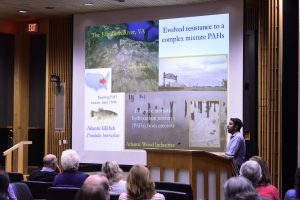 On Tuesday, November 29, 2016, Dr. Nishad Jayasundara delivered the Wetterhahn Award Lecture at the National Institute of Environmental Health Sciences (NIEHS) in Research Triangle Park, North Carolina. Several members of the Duke Superfund Research Center attended to show their support at the culminating event of the award year.
Jayasundara, a Postdoctoral Research Associate in Dr. Richard Di Giulio's lab at the Duke Superfund Research Center (Project 3), presented about his research on the effects of polycyclic aromatic hydrocarbons (PAHs), on the development of an estuarine fish species, Fundulus heteroclitus (Atlantic killifish), in the Elizabeth River in Virginia. Read more about Project 3 here. PAHs are common industrial contaminants that are created from combustion due to natural (volcanoes) or human-made sources (wood preservative treatment, fossil fuel burning).
The research takes a unique approach by studying fish at polluted sites where they live. The Di Giulio lab group also bring the sites into the lab by using extracts of the contaminated sediments from Virginia in controlled studies. In the lecture, Jayasundara described the implications for his work, including the potential for a greater understanding of how exposure to multiple stressors and pollutant mixtures in a rapidly changing natural environment during development might affect the health of organisms and humans.
Nishad Jayasundara has been a researcher at Duke since 2012, and plans to depart next year for a faculty position at the University of Maine. He received the Karen Wetterhahn Memorial Award from NIEHS in 2015. You can read more his research on his website.