The Duke Superfund Research Center had a strong presence at the SRP Annual Meeting in Philadelphia, Pennsylvania, in December 2017. Many investigators and trainees were in attendance, as well as administrative staff and some notable alumni from the program. Two trainees presented their research in general sessions, while trainees, investigators, and staff presented posters in both the RT/CE special session and general poster sessions.
Principal investigators and staff in attendance included:
Richard Di Giulio, Center Director and PI on Project 4
Heather Stapleton, Center Deputy Director and PI on Project 2
Edward Levin, PI, Project 1; Director, Neurobehavioral Toxicity Core
Joel Meyer, Training Core Director; PI, Project 3
Helen Hsu-Kim, Co-PI, Project 5
Sarah Phillips, Administrative Core lead
Michele Grow, Administrative Core support staff
Liz Shapiro-Garza, Director, Community Engagement Core
Charlotte Clark, Director, Research Translation Core
Bryan Luukinen, Community Engagement Core & Research Translation Core staff
Catherine Kastleman, Community Engagement Core & Research Translation Core staff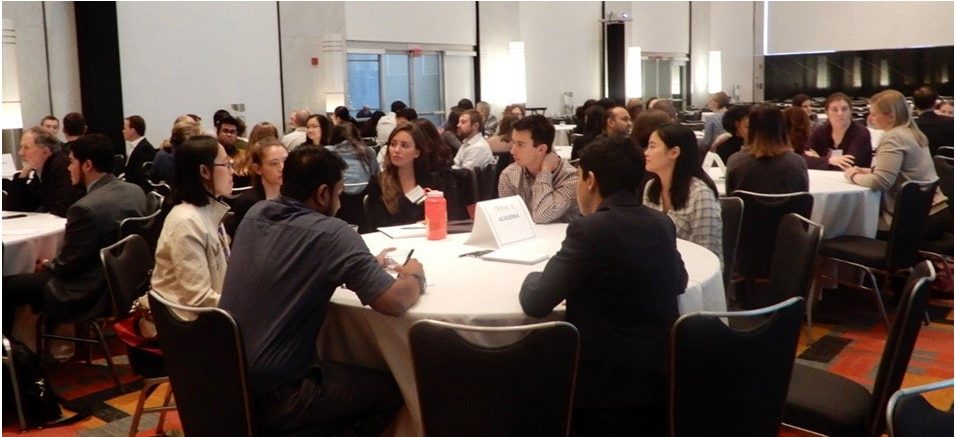 Trainee participation:
Tess Leuthner (Project 3, Meyer Lab) presented at the main session on Friday, Dec. 7 on her work with mitochondrial effects of contaminants in Daphnia.
Jordan Kozal (Project 4, Di Giulio Lab) presented on her research on Atlantic killifish and their adaptation to pollution, especially PAHs.
Savannah Volkoff (Project 5, Gunsch Lab) presented a poster on her research related to Project 5, on using biofilms to exploit natural microbiomes for contaminant remediation.
Andrew Hawkey, Ph.D., (Project 1, NBTC) a post-doctoral student working with Edward Levin in the Neurobehavioral Toxicity Core presented a poster, "Sex Differences in Neurotoxic Effects and Neurotoxic Effects on Sex Differences."
Jessica Hartman, Ph.D., (Project 3, Meyer Lab) a post-doctoral student in the Meyer Lab, presented a poster, "Humanized, Transgenic Caenorhabditis elegans to Study CYP2E1-Induced Mitochondrial Dysfunction and Neurodegeneration."
Other poster presentations:
Helen Hsu-Kim (Project 5) – "Quantification Of Mercury Biomethylation Potential In Sediments"
Seth Kullman (Project 2) – "Gaining insight into AHR-mediated inhibition of Osteogenesis."
Catherine Kastleman, Community Engagement Core – "Community Engagement to Support Community Gardeners in North Carolina With Reducing Exposure to Soil Contaminants and Pesticides" (see photo below)
Bryan Luukinen, Research Translation Core – "Angling for Understanding–Advisories, Preparation, & Cooking Behavior of Fishermen in Southeast Virginia"
Sarah Phillips, Administrative Core – "Developmental Exposures: Mechanisms,Consequences and Remediation"
Research translation and community engagement activities:
Duke's RTC convened the second quarterly meeting of Superfund Research Partnerships Network. Those present in the network included University of Kentucky, University of Louisville, University of Pennsylvania, and Duke University. Members of the CEC also attended the RTC-CEC Dinner on Thursday evening.
2017 Wetterhahn Award and Past Award Winners
The 2017 Wetterhahn Award was presented to Angela Gutierrez of the University of Kentucky. Ms. Gutierrez was recognized for her innovative research, focused on developing magnetic nanoparticles coated with plant-derived polyphenols, to capture and remove PCBs from water. Recent Wetterhahn Award winners from Duke in attendance included Elena Craft (2002), Alicia R. Timme-Laragy (2006), and Nishad Jayasundara (2015).