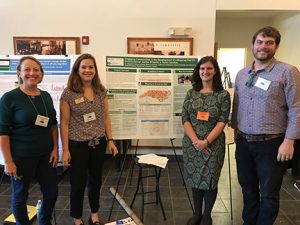 By Catherine Kastleman, Program Coordinator for Community Engagement and Research Translation, Duke University Superfund Research Center
What if you walked out of your home each day to the smell of hog waste, so thick in the air that it coated your car? Or to find buzzards from the nearby landfill eating a hole in your roof? How would you feel if you knew that your community was bearing a disproportionate burden of the state's environmental health concerns, and that this burden was correlated with factors like race and socioeconomic status?
These were just some of the stories shared by people living in North Carolina communities impacted by environmental hazards at the 19th annual North Carolina Environmental Justice Summit, hosted by the North Carolina Environmental Justice Network.
The first-ever Summit, held in 1998, arose from conversations during a 1997 meeting of the National Environmental Justice Advisory Committee (NEJAC) at North Carolina Central University in Durham, and its organizers later formed the North Carolina Environmental Justice Network (NCEJN).
The theme of this year's summit was "Building People's Power Against State Violence Through the Lens of Environmental Justice." Organizers hoped to spur conversation on the topic of "state violence in all forms, whether it comes from the barrel of a police officer's gun or from the pen of a regulatory agency." The Summit brought together concerned citizens, environmental justice activists and advocates, academicians and researchers, government agencies, and policy makers to discuss current issues in environmental justice.
The gathering featured a number of meaningful discussions, including Q&A sessions with representatives from the North Carolina Department of Environmental Quality and the U.S. Environmental Protection Agency, a "Community Speak-out and Government Listening Panel," and concurrent sessions on the school to prison pipeline, direct action, energy justice, and climate change. Some of the main topics of concern included the contamination of the Cape Fear River Basin with GenX, the impacts of coal ash spills on private well water, the effects of waste from confined animal feeding operations (CAFOs), and the proposed Atlantic Coast pipeline.
The Duke University Superfund Research Center Community Engagement Core, represented by Liz Shapiro-Garza, Catherine Kastleman, Bryan Luukinen, and Nicholas School of the Environment Master's student Kelsey Rowland, participated in the Summit in both 2016 and 2017 by sharing a research poster highlighting our participatory research project with community gardeners in North Carolina to reduce gardeners' exposures to soil contaminants, which includes an interactive GIS map of statewide sources of pollution. The Community Engagement Core (CEC), which was officially established in April 2017, works with communities affected by environmental contamination to help them access information on the health impacts of pollution and assist them with strategies to reduce exposure to, or remediate, harmful chemicals in the environment.
For the four of us who attended from the Duke CEC, the most valuable part of the North Carolina Environmental Justice Summit was witnessing firsthand the importance of using academic research to serve impacted communities, and the need for clear communication of information between decision makers, the scientific community, and the public.
We left the Summit with a renewed understanding of the impact of environmental health hazards on many North Carolinians, new data and insights to support our work, and a wealth of new connections to communities, government officials, and other researchers striving to promote environmental justice and address environmental health disparities in our state.