A team of local health educators will begin outreach this weekend to promote behavior changes for reducing contaminant exposure and safer ways to catch, clean, and cook fish from the Northeast Cape Fear River.
By Emma Bilecky, CEC Summer Intern
North Carolina Department of Health and Human Services fish consumption advisories warn that
some fish from the Cape Fear River may contain contaminants that can harm health. In many eastern North Carolina river basins, industrial manufacturing has left a legacy of chemical pollution. Mercury and other contaminants such as polychlorinated biphenyls (PCBs) and dioxin emitted into the atmosphere move through air, land and water and end up in fish tissue. Those who regularly consume fish from polluted rivers may be at higher risk of health consequences, especially pregnant or nursing women, women ages 15-44, and children under 15 who are vulnerable to contaminants that can affect growth and development.
That's why the Duke Superfund Research Center Community Engagement Core (CEC), with funding from an EPA Environmental Justice Collaborative Problem Solving Grant, has partnered with Cape Fear River Watch and a team of community health educators near Wilmington, NC, to share information about fish consumption advisories with people who catch and eat fish from the Northeast Cape Fear River. Throughout the summer of 2018, the CEC will be working with community members and organizations in Pender, Brunswick and New Hanover Counties to discuss the benefits of eating fish, the risks of consuming certain fish from polluted waterways due to contamination, and simple behavior changes for reducing exposure to environmental contaminants.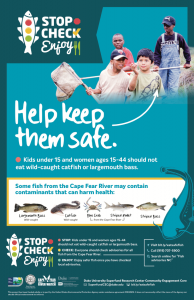 After speaking with local subsistence fish consumers, community health educators recruited by the New Hanover County NAACP collaborated with the CEC to develop and launch the "Stop, Check, Enjoy!" campaign:
Stop: Vulnerable populations like pregnant women and children should completely avoid fish high in mercury, such as catfish and largemouth bass caught in the wild in North Carolina.
Check: We encourage everyone who eats fish from the Northeast Cape Fear River to check advisories and be in the know about river contamination.
Enjoy: People can enjoy locally caught fish while reducing the likelihood of exposure to contaminants by:
Choosing fish that are not under advisory, fish that are lower on the food chain, and not bottom feeders. These are likely to bioaccumulate far fewer contaminants.
Filleting fish before cooking to remove fatty tissue where many contaminants (excluding mercury) can be found.
Of course, cooking and eating food are all specific to community preferences, and subsistence fish consumers may depend on eating fish from the river as a supplemental source of protein in their diet, so our behavior change efforts need to take these facts into account! That is what has inspired our health educators to share this information at food festivals, through cooking demonstrations, and at popular fish markets across the region and pilot our messaging for feedback from subsistence fish consumers. Stay tuned to hear what we learn from this participatory outreach process.