Lab Members
Current Members
Undergrads
PhD students
Researchers
Postdocs
Former members
Undergrads: Kiersten Bell (Worm Whisperer); Avery Berkowitz (Speed Demon); Kelsey Behrens (FUDR girl); Ashley Blawas (Aquagirl); Meryl Colton (Photoxia); Audrey Dinyari (Mitolassie); Lauren Donoghue (Teenage Mutant Tarheel Turtle); Sam Hall (Fluoresca); Sarah Gustafson (Staticia);https://www.fightaging.org/archives/2016/07/telomere-dynamics-in-mice-are-not-the-same-as-in-human-tissues/ Jina Kim (DNA Djinni); Sean Lee (Pickstar); Katie Margillo (Ultraviolet Spectre); Anne Martin (GreenGirl) Maddie McKeever (Wildcat); Caroline Schechinger (Sacaga-enviro-wea); Matt Strumph (MacroLeader); Lila Thornton (Shadowcrosser); Tanner Waters (The Blender); Dan Wood (Sonic Boom); Zhirui (Ray) Zhu (SYBRman); Tory Harms
Master's students: Sharon Luong (Firebird); Krithika Umakanth (Mekanika); Alex Kliminsky (Master Strange)
PhD students: Amanda Smith Bess (Black Fusion); Claudia González-Hunt (MitoMaga); Maxwell C.K. Leung (Toxic Knight); Jess Lewis (Smoke Slayer); Tony Luz (Snarf); John Rooney (Worm Hunter); Lauren Wyatt (Silver Storm); Xinyu "Candy" Yang (Nano Ninja)
Researchers: Charu Anbalagan (Supertoxgirl); Tracey Crocker (Wonder Worm Woman); Maggie Gustafson (Maggie the White); Alex Ji (Terror Byte); Chris Lord (Green Machine); Paige Meier (Metamorphenom); Victoria Tettehnaa; Elena Turner (Metalhawk)
Postdocs: Rakesh Bodhicharla (The Hulk); Kirsten Helmcke (Mercuria); Senyene Hunter (Electrophoresa); Laura Maurer (Invisible Woman)
Superheroes caught on camera!
---
The Detoxifier – Jamie Harris

Jamie is an undergraduate student from Delray Beach, FL who came to Duke to major in biology. She joined the Meyer Lab in 2016 to learn more about mitochondria and toxicology. She began doing research in an Aging Lab where she studied the effects of reactive oxygen species on aging through measuring glutathione levels. In the Meyer lab, Jamie becomes the Detoxifier to study CYP1A and its detoxifying effects on polycyclic aromatic hydrocarbons and Elizabeth River sediment extract.
When Jamie is not in the lab, she enjoys dancing and spending time with friends. She loves to explore Durham when she has the opportunity and a ride. She hopes to go on to Pharmacy school after her undergraduate years and is so glad to be a part of the Meyer Lab.
---
---
Epi-Girl – Rashmi Joglekar

Venturing from the desolate cornfields of West Lafayette, Indiana, EpiGirl recently came to Duke University as a first year Ph.D student to fight the evil forces of environmental toxicants. After becoming familiarized with the exciting world of epigenetics during her BS in Biotechnology at Indiana University, EpiGirl decided to join the Meyer and Murphy Labs and dedicate her superhuman strengths towards discovering the secrets of mitochondrial influence on epigenetics. Although new to the Meyer Lab superhero squad, EpiGirl has begun to investigate the epigenetic effects of rotenone exposure on differentiating PC12 cells.
Apart from conquering the evil forces of environmental toxicants, EpiGirl, also known as Rashmi, enjoys less burdensome pastimes such as singing, playing piano, pretending to exercise, and making Bollywood-esque music videos on YouTube. In an ironic twist, she thoroughly enjoys painting her face with chemicals disguised as colorful cosmetics and warding off evil forces with her bright guises. She is also a self-proclaimed "foodie," and enjoys sampling the gourmet food of Durham.
---
Toxic Rogue – Latasha Smith

Recruited from distant Raeford, NC, home of the turkey festival (where turkey tastes like ham), Toxic Rogue is our resident problem-solver, fixer of broken things, and mistress of invisibility. She obtained her BS degree in Biology from UNC Wilmington, and is our first recruit from the pharmacology and cancer biology department at Duke.
When not investigating the effects of chemicals on mitochondria, Toxic Rogue binge-watches Netflix, which allows her to revert to Latasha. Ask her about Game of Thrones.
---
Muta-?? Tess Leuthner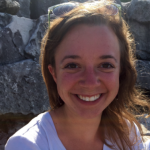 Tess joined the Meyer lab in 2016. After receiving her B.S. in Environmental Science from Indiana University, she worked at the UW-Milwaukee School of Public Health under Drs. Ava Udvadia and Michael Laiosa. There she studied the effects of embryonic exposures in zebrafish and mice to common pollutants, polycyclic aromatic hydrocarbons and dioxin, and their effects on the nervous and immune systems. Currently, she is interested in understanding the effects of environmental toxicants on DNA, specifically those that can cause mitochondrial DNA damage. Using C. elegans as a model, she is investigating the potential for these stressors to cause mutations that can be passed on across generations.
---
Aquawoman – Christina Bergmann

Coming from Wilmington, NC, Aquawoman spent most of her time growing up on the ocean where she enjoyed fishing, swimming, and discovering cool organisms in tidal pools. She eventually moved inland where she studied Environmental Science at the University of North Carolina – Chapel Hill. After graduating with her B.S. degree, she made her way to Duke University where she joined a biogeochemistry lab studying saltwater intrusion along the coast of NC and the impact of engineered nanomaterials in the environment. She is currently looking at how preconception exposure to toxicants change mitochondrial function in offspring. When not in the lab she enjoys biking, gardening, and spending time with her dog.
---
---
the Free Radical – Ian Ryde

After a shadowy decade and a half spent roaming the frigid wilderness of upper North America, the mysterious Free Radical journeyed south to Ohio, where he earned a BS in Biology at Bowling Green State University.  Next the Free Radical whetted his eco-research teeth for five years in the Duke University lab of Dr. Ted Slotkin, where he studied the effects of pesticides and nicotine in rat and cell models and climbed the ladder from a keen research technician to a truly formidable laboratory analyst II.  In the cold, early months of 2010, the fearless Free Radical ventured a few wings down in the LSRC to join our dauntless defenders in the pursuit of eco-justice and other derring-do.  Here he will study the effects of bulky, persistent damage to mitochondrial DNA (mtDNA) on RNA expression, mtDNA copy number, and reactive oxygen species (ROS) levels in C. elegans.  He's excited to do something new and different as part of our unique and talented eco-team.
When not carrying out vigilante eco-justice in the lab, the Free Radical reverts to his alter ego, Ian Ryde.  Born and raised in the wilds of Canada, Ian naturally learned to play hockey and hunt ferocious beavers at a young age.  Now Ian has a son with whom he spends as much time as possible outside, especially learning to play sports.  In order to be a good role model, he continues to teach his son many important life lessons: to love Ohio State and hate University of Michigan, to love the Toronto Maple Leafs and hate the Ottawa Senators, and to use various dirty words in addition to plenty of perfectly clean ones.  One way or another, Ian spends much of his leisure time watching and playing sports.  His favorite color is blue, and he despises all Jelly Beans for the fiendishly inedible bits of colored wax that they are.  He's glad to be at Duke, which he has come to know as an excellent place to work and learn and where he hopes to stay for many years to come.
---
The Catalyst – Jessica Hartman
The Catalyst is a fearsome enzymologist delving into the world of toxicology. After doing a B.S. in Chemistry with a minor in Physics at the University of Arkansas at Little Rock, she did her Ph.D. in Biochemistry studying the intricacies of how a xenobiotic (foreign chemical)-metabolizing liver enzyme (CYP2E1) carries out its enzymatic reactions. CYP2E1 converts many environmental pollutants and drugs into more toxic metabolites that damage cells! Many of these metabolites specifically damage mitochondria, which is how this enzymologist became interested in mitochondrial toxicity. So now she has joined forces with the Meyer lab to look at CYP2E1-dependent toxicities to mitochondria after exposure to neurotoxicants and how this mechanism might contribute to neurodegeneration. For her experiments, The Catalyst is working with mammalian cell lines and the model organism C. elegans.
When not catalyzing progress in the lab, Jessica enjoys cooking many different types of delicious foods, making some mean homebrew wine, oil painting pictures of anything except people, and spending quality time with her brilliant and handsome husband Steven. She is a certified group fitness instructor, and has taught kickboxing, weight lifting, high-intensity interval training and boot camp. She enjoys learning about nutrition and fitness and hopes to one day intertwine these interests with her research. She loves to travel, whether it be exploring North Carolina, going back to Arkansas to see family, or discovering new places. And finally, she loves to hike outdoors (but not sleep outdoors). She is very happy to be in Durham, where there seems to be endless opportunities (for career and fun)!
---
Power-Immunotox Girl-Danielle F. Mello

From the beautiful and far away land called Brazil, the Power-Immunotox girl came to join forces with the Meyer lab to fight for environmental justice. She started discovering and refining her superpowers during her B.S. in Biology, which was followed by a M.S. and Ph.D. in Biochemistry; all carried out in the Federal University of Santa Catarina, located in the alluring island of Florianopolis, Brazil. One of her favorite superpowers is to unmask bad chemicals that can be toxic to the immune system (immunotoxicants). Recently, she has become particularly interested in the role of mitochondria in mediating immunotoxicity. Other potential bad guys that are targeted by her superpowers are "silver nanoparticles." These tiny pieces of silver are very mysterious, and her challenge is to expose their true character: are they indeed evil – especially with regards to our mitochondria – or only become this way when gathered in big groups (very high doses) that are rare to find in our environment.
When the Power-Immunotox girl is not unmasking toxic villains, she enjoys spending her time hanging out with family and friends, doing outdoor activities (especially in a beautiful sunny day – and if it's at the beach, even better!), studying the Bible, playing different kinds of sports (recently her most favorite has become wall climbing), drawing, painting, dancing… Recently, she has discovered a new passion: science communication and outreach, which made her join the Duke Postdoc Association as outreach chair. You can find her on youtube being interviewed by middle-schoolers or telling in simple words what an environmental toxicologist does.
https://www.youtube.com/watch?v=rTu4eV6m_RA&list=FL9nibrZDGPJMApNgg7uzoyA
https://www.youtube.com/watch?v=YGP3iUQ8VSc&t=1s
---
Super-enviro-man – Joel Meyer

Our fearless leader, Super-enviro-man, graduated from Juniata College with a dual degree in Environmental Studies and Peace and Conflict Studies.  He then lived in Guatemala for five years, where he worked a variety of jobs and learned to speak Spanish and to control his growing superpowers.  These jobs included international observer/accompanier for political refugees (a friend's book that documents some of the refugees' history can be found here: http://www.jonathanmoller.org/), coordinator and interpreter for a small NGO involved in language instruction and development/appropriate technology projects (http://www.pop-wuj.org/; a related and wonderful education-focused project is Education and Hope), and middle and high school teacher.  Upon his return, Super-enviro-man obtained a PhD in Environmental Toxicology at Duke University and valiantly battled the forces of eco-evil during three years of postdoctoral research at the National Institute of Environmental Health Sciences.  In 2007, this legendary graduate of the Duke ITEHP program took up his current position at the Nicholas School of the Environment and began to build his not-so-secret-anymore team of bold environmental champions.
Super-enviro-man coordinates the overall heroic efforts of the laboratory, with very occasional forays into actual benchwork.  He applies his insatiable scientific curiosity, which makes him impervious to despair or defeat, to discovering the effects of dastardly toxic agents on health.  He has currently focused his considerable intellectual brawn on understanding the mechanisms by which devious environmental agents cause DNA damage, the molecular processes that organisms employ to prevent and repair DNA damage, and the genetic differences that may lead to increased or decreased sensitivity to DNA damage.  Mitochondrial DNA, and mitochondrial functions in general, are a particular obsession. To this end, he leads his noble ecotox team in the study of DNA repair and other responses to DNA damage via molecular and genetic as well as genomic and systems biology approaches.  In addition to these mighty powers, he also wields unlimited instant recall of every paper he has ever read, but is careful only to use his strength for good, never evil.  Super-enviro-man also pursues broader interests in environmental issues through teaching and outreach activities.  Courses he teaches include Introduction to Environmental Science and Policy, Environmental Toxicology, Mechanisms in Environmental Toxicology, and Environmental Health. He currently serves as Director of Graduate Studies for the Environment PhD program.
A current CV and additional work details are here.
In the few moments he can spare from fighting the good eco-fight, Super-enviro-man reverts to his alter-ego, Dr. Joel Meyer, who enjoys outdoor activities such as hiking, camping, sports, and gardening.  He also loves reading (try Madeleine L'Engle and Khalil Gibran) and music, with too many favorites to list. He enjoys dance vicariously through his brother's dance theatre Khecari and trying to keep up with his daughter's activities at Carolina Friends School (daughter's wonderful school). His son Dani attends Juniata College, his own alma mater. He has a lot of fun with thinking and talking about science and religion, and written some thoughts on the subject here: Eruditio et Religio