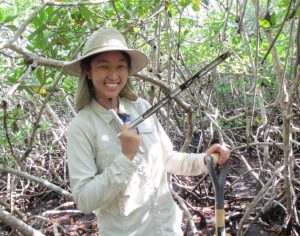 Sylvia graduated from the University of California, Berkeley in 2012 with a degree in environmental sciences and the Nicholas School of the Environment in 2015 with a master degree in environmental management with a concentration in coastal environmental management (CEM).
Sylvia worked with two fellow CEMs, Emma Kelley and Ashley Green, on a project to assess the potential of mangrove blue carbon in Belize. She spent the summer of 2014 in Belize with Emma conducting in-person interviews with governmental agencies and NGOs on mangrove policy and management issues, compiling and analyzing mangrove spatial data for historical changes in mangrove coverage, and conducting soil sampling for mangrove carbon content.
Her career interests include working in the nexus of science, policy and research for climate change adaptation and wetland conservation, and also utilizing spatial analysis tools to better understand environmental dynamics.