Dr. Heather Stapleton, Ph.D – Principal Investigator, Associate Professor

Heather received her PhD from the University of Maryland, College Park where she trained in environmental chemistry. After completing her PhD, she accepted an NRC Postdoctoral Fellowship at the National Institute of Standards & Technology in Gaithersburg, MD where she worked for two years in their Analytical Chemistry Division.  In 2005 Heather accepted a faculty position at the Nicholas School of the Environment at Duke University, and became active in the Integrated Environmental Health and Toxicology Program.  Her research interests focus on identifying and understanding the uses of flame retardant chemicals in consumer products, and evaluating human exposure, particularly in children. In 2014, she received a grant from NIEHS to evaluate children's exposure to mixtures of contaminants in the home environment, which led to a stronger research emphasis on characterizing potential cellular effects from environmentally relevant mixtures (e.g. house dust).  Furthermore, she collaborates with a number of investigators within and outside of Duke to investigate health effects related to flame retardant exposures, and other common contaminants in the indoor environment (e.g. phthalates, pesticides, and perfluorinated chemicals).  
Dr. Kate Hoffman, Ph.D – Assistant Research Professor
Dr. Kate Hoffman, an environmental epidemiologist, joined the faculty of the Nicholas School of the Environment as a research assistant professor in 2017. Her research is focused on understanding the impact of environmental chemical exposures on children's growth and development. As a doctoral student at Boston University, Kate investigated associations between perfluoroalkyl chemicals and children's cognitive and behavioral development. During her postdoctoral work, she shifted her focus to flame retardant exposures and came to Duke in 2014 to work in the Stapleton Lab. Her current projects include an assessment of children's exposure to flame retardant chemicals and an investigation of the impacts of exposure on early immune system development and function. Kate enjoys spending time with her husband Ben, two adorable children and an ever increasing number of pets.
Dr. Ellen Cooper, Ph.D – Research Scientist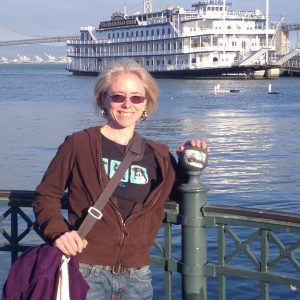 Ellen Cooper is originally from Oxford, Pennsylvania. She received her BS (1994) in Plant Science from the University of Delaware, and her MS (1996, Thesis: "Chelate-assisted remediation of lead contaminated soils") in Plant and Soil Sciences also from the University of Delaware, where she worked as an associate in research until 1998.
In 1999, she came to Duke University Nicholas School of the Environment to work for Dr. Dharni Vasudevan, and later Dr. Andrew Schuler (formerly of Dept. Civil and Environmental Engineering), and eventually matriculated and received her Ph.D. in Environmental Sciences (2009, Dissertation "Biodegradation of a Sulfur Containing PAH, Dibenzothiopene, by a Mixed Bacterial Community.") under the advisement of Dr. Heather Stapleton, for which she worked as a post-doctoral associate until 2011. Her current research interests include analyzing environmentally important organic compounds in a variety of matrices including sediments, water, biological samples and polyurethane foam and using high resolution mass spectrometry to characterize chemical composition of a variety of samples types.
Apart from scientific research, Ellen actively pursues music, plays a variety of instruments, and studies early music notation and theory from the Medieval and Renaissance periods. She is an avid runner and hiker, a part-time freelance landscape gardener, and is kept firmly in line by three feisty black kitties.
Dr. Chris Kassotis, Ph.D – Postdoctoral Research Associate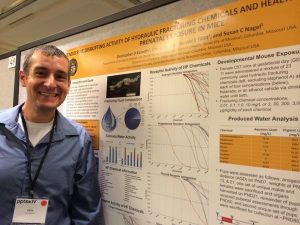 Chris grew up in Fitzwilliam, NH, learning to weather long, cold winters (a skill that with no practical benefit in NC), and received his B.S. in Biology from Keene State College in 2008. As an undergraduate, he got passionate about chemicals that could interact with the endocrine system and potentially result in adverse health effects for humans/animals. Following college, Chris took a job at a contract research lab in NJ to develop some lab skills, and then entered grad school at the University of Missouri in 2010. Co-advised by Fred vom Saal and Susan Nagel, Chris quickly became interested in exploring chemical mixtures and better understanding how chronic exposure to environmental chemicals could influence health. His dissertation, titled Unconventional Oil and Gas Extraction as a Novel Source of Endocrine Disrupting Chemicals to Water and the Potential for Adverse Human and Animal Health Outcomes, had three main aims and was supported by an EPA STAR pre-doctoral fellowship. First, to assess whether commonly used hydraulic fracturing chemicals could interact with human hormone receptors, second, to assess total hormone receptor activities in surface and ground water from drilling-dense regions, and third, to expose pregnant mice to a lab-created mixture of common fracking chemicals and assess the health of pups throughout their lives. Chris graduated in May 2015 with his PhD in Endocrinology, as well as a Graduate Certificate in Science & Public Policy.
Chris joined the Stapleton Lab in September 2015 as a postdoc, and began developing the 3T3-L1 adipogenesis assay to evaluate chemicals and environmental mixtures that might be able to influence metabolic health (obesity, diabetes, etc.). His interest is still on mixtures, and now supported by an NIEHS NRSA postdoctoral fellowship, he's working to better understand the mechanisms through which environmental mixtures of chemicals present in indoor house dust promote fat cell development and identifying the causative chemicals responsible for this impact. The ultimate goals of this work are to better characterize the metabolic disruption potential of common indoor contaminants and whether exposure to these contaminants could be disrupting metabolic health of the residents (particularly children) living in these homes. In his free time, Chris is normally training for a half or full marathon, oftentimes accompanied by his retriever-mix Lanie, making homemade wine, or crafting a new cupcake creation to share with the lab.
Dr. Nicholas J. Herkert, Ph.D – Postdoctoral Research Associate
Nick grew up in Petersburg Il, a small town in the central Illinois before making the long trek north to attend the University of Iowa as an undergraduate. Early on as an undergraduate, Nick began working in an analytical chemistry lab under Dr. Keri Hornbuckle. This was what first piqued Nick's interest in characterizing the chemical mixtures people are exposed to throughout their lives and inspired Nick pursue a degree in Environmental Engineering. During his senior year, Nick enrolled in a joint undergraduate/graduate degree program under Dr. Keri Hornbuckle. Nick graduated from the University of Iowa with a BSE in Civil Engineering and a Certificate of Sustainability in 2015, and immediately returned to continue working on his Ph.D. Nick graduated in 2018 with a Ph.D. in Environmental Engineering, after successfully completing his thesis entitled Development of the Polyurethane Foam Passive Air Sampler for Novel Applications in Ambient Air Across the Globe.
Nick joined the Stapleton Lab in June 2018 as a Postdoctoral Associate, where he has continued to work to better understand the exposures people experience in their everyday lives, the potential health effects form these exposures, and the subsequent sources for these exposures. Nick first started by putting is analytical chemistry background and modeling background to work on developing a high throughput methods for both target and untargeted analysis of silicone wristbands. This work is largely done on a high-resolution accurate mass (HRAM) Q Exactive GC hybrid quadrupole-Orbitrap GC-MS/MS system, of which Nick is the gatekeeper. The ultimate goal of the work is to provide a quantitative analysis of a suite of target SVOCs, as well and semi-quantitative analysis of suspect chemicals, which will provide a much broader picture of what people are exposure to in their day-to-day lives. Nick has also worked to study the levels of PFAS compounds in local utilities and characterize the effectiveness of various in-home filters at removing such compounds. When not in the lab, Nick is often out running to train for a half or full marathon, out hiking to take pictures, or laying on the couch watching movies with his wife, two dogs, hedgehog, and gecko.
Stephanie Hammel – PhD Student
Stephanie grew up in Southern California and ventured off the west coast in 2014. Prior to her studies at Duke, Stephanie was a graduate student intern with the California Department of Toxic Substance Control (DTSC) where she assisted with the implementation of their Safer Consumer Products Regulations. Stephanie received B.S. degrees in Chemistry and Biological Sciences from the University of California, Irvine in 2012 and a Master's in Public Health (MPH) degree in Epidemiology also at UC Irvine in 2014. As a PhD student, Stephanie has been actively involved in recruitment and sample collection/analysis for the TESIE and CIE projects. Her dissertation work focuses on characterizing and validating silicone wristband use as an exposure metric for various semi-volatile organic compounds (SVOCs). Her research interests also include identifying sources and routes of exposure for SVOCs commonly used in consumer products. Working in the Stapleton lab has allowed her to find an ideal balance between her interests in analytical chemistry and epidemiology and work with some pretty awesome people. When she's not in lab or analyzing data, Stephanie is likely on Google flights looking for her next travel destination, attempting to cook something she's tasted somewhere once, training to hike up some mountain (TBD), or hanging out with her dog, Iris.
Jessica Levasseur – PhD Student
Jessica grew up in Eastern Connecticut, though has spent the past 10 years moving around the US. She received her bachelor's degree in Chemistry: Biochemistry from Colby College in 2010, where she graduated with honors and ACS certification. After some time working at a women's health center in Central America, she spent two years working in the development laboratories of a pharmaceutical company. Jessica graduated in 2015 from the University of Washington's Department of Environmental and Occupational Health Sciences with an MS in Environmental Health (Risk Emphasis). Completing this degree led her to Durham, NC, where she spent three years consulting for the federal government. Her work included developing and maintaining exposure models for both residential chemical exposures and outdoor air pollution as well as evaluating the human health effects and risk associated with particular chemicals and microbial toxins. Jessica joined the Stapleton Lab in 2018, where she has since been investigating the association between particular household products and human exposure. Her research interests include quantifying non-occupational exposures, particularly those associated with the dermal pathway. Outside of the laboratory Jess enjoys travelling with her husband, cooking, being outside, and reading. 

Matt Ruis – PhD Student
Matt is a third-year PhD student in the Stapleton Lab who grew up in the Hudson Valley of New York. In 2015, he graduated from Marist College in Poughkeepsie, NY with a B.S. in Environmental Science and a minor in Biology. He came to Duke University through the Integrated Toxicology and Environmental Health Program (ITEHP) and joined the Stapleton Lab after completing his first year of rotations. Since then, he has worked on a variety of projects ranging from cell culture work testing adipogenic activity of flame retardants, to measuring various contaminants in wild and farm-raised salmon. He is now developing his thesis, which will focus on how the accumulation of flame retardants in the human placenta can influence fetal development and parturition. He is currently collaborating with Dr. Heather Patisaul's laboratory at NC State on a project investigating placental transfer of flame retardants using the Wistar rat as a model.
He is also developing a novel method to measure estriol and estradiol in the placenta using LCMS. Ultimately, he plans to evaluate the accuracy of current methods (immunoassays) used in a clinical setting to measure estriol in maternal serum, saliva, and urine with the novel LCMS method he has developed along with other LCMS methods previously used. When not asking pregnant women for their placenta, Matt spends his free time outdoors and fostering dogs.
Kirsten Overdahl – PhD Student
Kirsten is originally from Fort Wayne, IN and came to Duke after five years in Northfield, MN. She attended St. Olaf College, where she received a BA in Chemistry (2015) and a BM in Vocal Performance (2016). Kirsten is now in her second year in the Toxicology and Environmental Health program at Duke and, after an engaging rotation in the Stapleton lab, is excited to be an official lab member; she is also a member of the Ferguson Lab (Duke CEE). Trained primarily as an analytical chemist, Kirsten's work in the Stapleton and Ferguson labs has inspired her to consider how best to create comprehensive, iterative workflows for predicting what might happen when humans are exposed to chemicals in the environment. Kirsten plans to explore best practices to move between chemical structure identification, chemical behavior assessment, and hormone and immune response studies. Currently in the Stapleton lab, she is examining azobenzene-based disperse dyes and investigating different analysis techniques to pinpoint the types of hormone or immune activity these dyes might elicit in the body. Outside of the lab, Kirsten can be found singing in Duke Chapel with the Vespers ensemble, running or training for a race, and exploring North Carolina's beautiful state parks and delicious foods.
Sam Hall – PhD Student
Sam is a native North Carolinian originally from Winston-Salem, NC. She graduated from Duke University in 2015 with BS degrees in Biology and in Environmental Sciences. She came back to Duke University in 2017 through the Integrated Toxicology and Environmental Health Program (ITEHP). Prior to starting grad school, Sam worked in labs and groups at Duke, NIEHS, and the Environmental Working Group on various environmental toxicology projects, including studying flame retardants, mitochondria, chromium, and Parkinson's disease.
In the Stapleton Lab, Sam is researching per- and polyfluoroalkyl substances (PFAS) and contaminants in the placenta for her thesis. When not in the lab, Sam is likely taking care of her plants, painting her nails, or decorating something with glitter.
George Tait – Research Technician II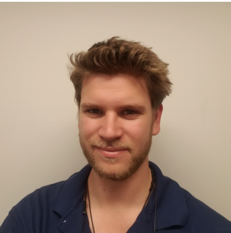 George, who is half British, moved to Durham from Vermont in 2018 for a Bull City girlfriend. Having completed both his undergrad and Masters in Manchester England he worked for Cascade, a company whose mobile laboratories ran investigations for the EPA, local governments and private clients. There he learnt the intricacies of GCMS instrumentation and environmental analysis. George likes tea, clouds and a well sharpened pencil and has, having joined Duke, discovered that basketball is actually quite a good sport worth his time!
Sharon Zhang – Associate in Research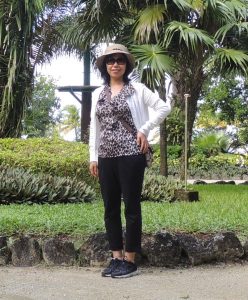 As an Associate in Research with M.S. in Chemical Engineering, Sharon joined the Stapleton Lab in December, 2016. She has work experience in both the pharmaceutical industry as an Analytical Scientist and in academia as a Researcher. Before she joined the Stapleton Lab, she was involved in metabolic and diabetic research in the Department of Nutrition at Case Western Reserve University. She is experienced in using various analytical instruments to perform drug development and metabolic research. In the Stapleton Lab, Sharon is responsible for LCMS system maintenance, method development and sample analysis to support students and lab projects. Her research gear is switched from how to eat healthier (Nutrition) to how to live healthier (Environment). She is involved in exploring the effect of flame retardant chemicals on both the environment and human health. As two boys' mom, Sharon loves to cooking delicious foods for her family. She enjoys Zumba and hiking with her friends.
Emina Hodzic – Research Technician II
Emina comes from the small, yet very beautiful, country of Bosnia and Herzegovina. She received her Bachelor of Science degree in Chemistry from Methodist University in Fayetteville in 2014. Shortly after her graduation, Emina joined Shealy Environmental Services where she worked as an Analyst in their analytical lab. Her main responsibility was testing for volatile organic compounds found in water and soil samples. Emina joined the Stapleton lab in August 2015 and is currently working as a research technician for the Analytical Chemistry Core within Duke's Superfund Research Center. Her main responsibility is analysis of environmental samples (sediments/soils, tissue samples, aqueous solutions, etc.) for organic contaminants and their degradation products; however, her "favorite" responsibility is cleaning the GC/MS source. Outside the lab, Emina enjoys sleeping, reading, yoga, learning new languages and trying food from different cultures.
---
Former Lab Members
Master's Students:
Josie Bamford (May 2007)
YuChun Kuo (December 2011)
Lauren Gloeckler (May 2013)
John Misenheimer (May 2013)
Zhuoyuan Chen (May 2014)
Brit'Ny Hawkins (May 2014)
Genna Gomes (May 2015)
Peyton Ward (May 2015)
Rebecca Siebenaler (May 2016)
Rochelle Cameron (May 2016)
Meredith Frenchmeyer (May 2017)
Bridget Flaherty (May 2017)
Allison Killilus (May 2017)
PhD Students:
Elizabeth Davis (May 2013)
Pam Noyes (May 2013)
Simon Roberts (August 2014)
Laura Dishaw (May 2015)
Laura Macaulay (July 2015)
Mingliang Fang (May 2015)
Chris Leonetti (July 2016)
Allison Phillips (May 2019)
Undergraduate Students:
John Blades (2007)
Aminah Cherry (2007)
Stephen Lubin (2008)
Jenifer Fuh (2011)
Olay Ayinksku (2011)
Alex Keller (2012)
Matthew Mrozek(2012)
Katharine Gifford (2014)
Nikalesh Raju (2013)
Amy Trey (2015)
Tom Neufeld (2015)
Spencer Pecha (2015)
Deanna Badger (2016)
Postdoctoral Research Associates:
Dr. Dongli Wang (2009-2010)
Dr. Wu Dong (2011-2014)
Dr. Craig Butt (2010-2014)
Dr. Tara Rafferty (2015-2016)
Dr. Erin Kollitz (2014-2018)
Research Technicians:
Shannon Kelly (2006-2008)
Sarah Eagle (2008-2011)
Katie Douglas (2011-2012)
Alex Keller (2012-2013)
Kylie Rock (2013-2014)
Albert Chen (2014-2016)
Spencer Pecha (2014-2015)
Yu-Ping Huang (2016-2017)
Amelia Lorenzo (2014-2017)