About
Andy is the Stephen Toth Distinguished Professor of Marine Biology and the Director of the Duke University Marine Laboratory, in Beaufort, NC, USA.  He was born in Southampton, England and educated in Canada. He received his Ph.D. from the University of Guelph in 1990 for research conducted on the life history and bycatch of harbour porpoises in the Bay of Fundy, working under the supervision of Dr. David Gaskin. He has conducted field research on marine mammals, sea birds and sea turtles in North and South America, Europe, Asia and the Antarctic. You can access his papers through Google Scholar.
Andy is active in the conservation of marine vertebrates at the national and international levels.  He has acted as a member of the Cetacean Specialist Group of the IUCN, the Scientific Committee of the International Whaling Commission, the International Committee for the Recovery of the Vaquita and several federal marine mammal Take Reduction Teams.  He has also served on the Editorial Boards of Marine Mammal Science, the Journal of Cetacean Research and Management and Endangered Species Research. In 2022, Andy was nominated by President Biden to serve as a Commissioner of the U.S. Marine Mammal Commission, which provides oversight for marine mammal policies and programs being carried out by federal regulatory agencies. His nomination was confirmed by the Senate and he began his term as Commissioner in 2023. And from 2008-2010 he served as President of the Society for Marine Mammalogy.
Andy lives with his wife Kim on a century-old farm in Gloucester, NC, with an assortment of horses, cats and chickens, a big organic garden, and a fruit and pecan orchard.  His dreams of one day operating a commercial organic farm have been tempered by his complete lack of competence with heavy equipment and machinery of any kind.
Research Staff
Danielle Alvarez
I am interested in habitat use and spatial dynamics of marine species, particularly changes over time in relation to climate change. I utilize GIS and remote sensing to investigate these topics and have a particular love for highly migratory species, like sea turtles. I grew up in Southern California, received a B.S. in Environmental Science from UCLA, a GIS certificate from UC San Diego, and spent several years working in fisheries conservation across Los Angeles County.
Since leaving California, I have worked with sea turtles in the USVI and documented changes in essential fish habitat in the southeast US. I received a Master in Professional Science in Fisheries Management and Conservation at the University of Miami. At Duke, I help with data management, any GIS needs for a variety of projects, and lab management for the Read lab. I also assist with vessel surveys offshore along the southeastern seaboard for the US Navy. Our goal is to provide the Navy with baseline data on marine mammal and sea turtle behavior, density and abundance estimates in these areas.
Zach Swaim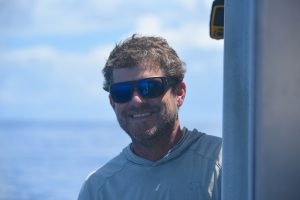 Zach grew up in the foothills of North Carolina before moving to the coast and earning a B.S. and M.S. in marine biology from UNC Wilmington. During graduate school, he spent many summers in the Bay of Fundy working on field-based research projects, ranging from seabird and shark foraging ecology to right whale lipid metabolic dynamics and habitat use studies. His first real job out of school was flying aerial surveys in the southeast US right whale calving grounds. He took a short hiatus to thru-hike the Appalachian Trail before coming to the Duke Marine Lab in 2011.
Zach has over 15 years of experience as a field biologist studying wild populations of marine mammals from humpback whales in Antarctica, the vaquita in the Gulf of California, and North Atlantic right whales and Cuvier's beaked whales along the US east coast. He is a licensed vessel captain and field team coordinator for several ongoing US Navy-supported projects, including the Atlantic Behavioral Response Study, North Atlantic right whale monitoring and tracking, a behavioral response of humpback whales to vessel traffic, and cetacean monitoring and tagging on the Jacksonville Shallow Water Training Range.
At DUML, Zach provides hands-on training in marine mammal field techniques to undergraduate and graduate students that focus on vessel operation, data collection, photo-ID, biopsy sampling, tracking, and tagging.
Kim Urian
I received an undergraduate degree from the University of Colorado and then worked as a research assistant at the University of California at Santa Cruz with Dr. Ken Norris and Dr. Randy Wells.  I also managed the database from the long-term study of bottlenose dolphins in Sarasota, Florida with Randy Wells.  I received a Masters degree from the University of North Carolina at Wilmington, for work with Drs. Laela Sayigh and Randy Wells  on the community structure of bottlenose dolphins in Tampa Bay, Florida. I am currently employed as a Research Analyst at Duke, where I supervise the photo-identification programs for several species of odontocete.  I am also the curator of the Mid-Atlantic Bottlenose Dolphin Catalog.
Danielle Waples
I am interested in the behavioral ecology of marine mammals, especially  foraging ecology, habitat use, and fisheries interactions. I received my Master's in Marine Sciences from the University of California at Santa Cruz and studied seasonal differences in activity budgets of bottlenose dolphins in Sarasota, Florida.
My fieldwork at Duke consists of photo-identifying bottlenose dolphins, collecting data on dolphin and whale activity, and trawling for fish and invertebrates.
I have participated in a number of interesting projects, several of them focusing on the interactions between marine animals and commercial fisheries. Previously, we completed a study that used an overhead video system to look at how dolphins behave around gillnets in order to understand why dolphins sometimes become entangled in this gear.
Rachel Hilt
I am a 2023 graduate from the Master of Environmental Management (MEM) program at Duke in the Coastal Environmental Management concentration. I was a student in Dr. Read's lab and completed my Master's Project, "The Evolution of Stock Definitions and Management Implications under the U.S. Marine Mammal Protection Act" with Dr. Read and Brianna Elliott. I graduated from the University of Miami, Florida with a bachelor's degree in Marine Affairs and a double major in Anthropology. Before attending Duke, I worked as a Biological Assistant Intern at Cape Lookout National Seashore where I monitored sea turtle nesting activity by conducting nest surveys and installing predator enclosures for both sea turtle nests and nesting shorebirds. My research interests center around protected species management and critical habitats with a focus on marine mammals and sea turtles.
At Duke, I am working with Dr. Read and Duke Marine Lab faculty to design a marine and natural science course for the MEM curriculum. In my free time I enjoy hiking, surfing, kayaking, scuba diving, and just about any activity you can do on the water.
Contact Info: rachel.hilt@duke.edu