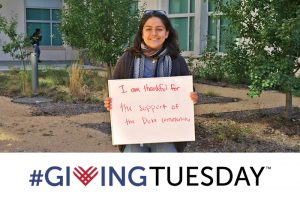 This year marks the Nicholas School's first year participating in Giving Tuesday, the annual international day dedicated to charitable giving. Giving Tuesday –often stylized as #GivingTuesday for the purposes of hashtag activism — takes place on the first Tuesday following Thanksgiving each year. The international movement started in 2012 as a direct response to the increasing presence of consumerism and commercialism in the weeks following Thanksgiving. This November, The Nicholas School will join thousands of participating non-profits around the globe and roll out a campaign to build awareness and encourage contributions.
The Nicholas School's inaugural #GivingTuesday campaign will focus on highlighting our students and their appreciation for the support they receive from our alumni and friends. Promotional content will be distributed in the two weeks leading up to #GivingTuesday (Nov. 14-27), and the opportunity to give back to the campaign will be presented on the day of #GivingTuesday (Nov. 28th).
Those that choose to participate will help provide a steady stream of flexible resources that can be used towards student financial aid, educational technology and tools, field trips, internships, curriculum development, career services and more. Be on the lookout for more information via email and on social media in the next few weeks.