Hurricane Florence took a toll on the Outer Banks, and the Marine Lab was among its many victims. The dock and several buildings were damaged, and some of them were unusable.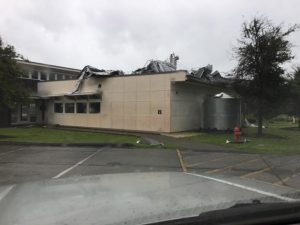 Several donors have since stepped up to offer their support, providing the funding to restore the dock and strengthen it against future storms, to restore classrooms, and to remodel or build new spaces to enhance the student experience at the Marine Lab.
Recent gifts include:
$955,000 to rebuild the dock and provide reinforcements for the new research vessel currently being built
$700,000 to convert Lab 5 to mid-size classrooms and office space for PhD students
$220,000 to create a professional student study space
$65,000 to convert a storage room to multi-purpose office space for the oceanography program
$30,000 to convert an underused conference room to a mid-sized classroom
"These gifts will make it possible for us to expand the research opportunities at the Marine Lab, as well as to improve access for our new ocean research vessel, which will be completed later this fall," said Andy Read, the director of the Marine Lab. "These gifts will also make it possible for us to update many of our facilities to improve collaboration, aid research, and enhance the overall student experience. We're excited about the changes coming to the Marine Lab!"
For more information about the Marine Lab, visit https://nicholas.duke.edu/marinelab. If you are interesting in donating to the Nicholas School or the Marine Lab, visit https://www.gifts.duke.edu/nsoe.