Current Ph.D. Students
Ashley Blawas
Ashley's research focuses on the physiological adaptations that enable cetaceans to dive for extended periods of time underwater. By measuring both physiological rates and related molecular markers during resting and active behaviors, she aims to understand how cetaceans adjust their cardiovascular and metabolic processes on a fine-scale to support differing needs during diving and surfacing intervals and the limits of their physiological adaptations.
Ph.D. Candidate, Marine Science & Conservation, Duke University
B.S.E. Biomedical Engineering 2018, Duke University

ashley.blawas@duke.edu
Personal Website | ResearchGate | Scholars@Duke
Amanda Lohmann
Amanda's research focuses on understanding the factors that drive population size and spatial distribution of Antarctic krill (Euphausia superba), a keystone prey species in the Southern Ocean. She uses acoustic instruments to estimate densities and generate maps of krill near the western Antarctic Peninsula. By understanding how krill populations respond to environmental, oceanographic, and biological variables, she hopes to provide insight into how krill – and therefore the entire Antarctic marine ecosystem – will respond to climate change.
Ph.D. Candidate, University Program in Ecology, Duke University
B.S. Quantitative Biology & Computer Science 2017, University of North Carolina at Chapel Hill
amanda.lohmann@duke.edu
curriculum vitae
Greg Merrill
Greg's dissertation research is broadly focused on assessing the impacts of plastic pollution on the energy mobilization and thermoregulatory capacities of blubber in marine mammals. His previous work has focused on investigating maternal foraging behaviors of Alaskan northern fur seals in an effort to establish an effective and relatively inexpensive long-term monitoring index of foraging success and pup survival.

Ph.D. Candidate, University Program in Ecology, Duke University
M.Sc. Biological Sciences 2019, University of Alaska Anchorage
B.S. Biological Sciences 2014, University of California – Davis
gregory.merrill@duke.edu
curriculum vitae | LinkedIn | Scholars@Duke
Charles Muirhead
Since 2007 Charlie has worked as a bioacoustics analyst characterizing the seasonal movements and distribution of whales and dolphins throughout the world's oceans. Geospatial variation in noise exposure, bycatch, and ship strike risk was a central theme in this research. His dissertation will focus on large-scale monitoring and status assessment of river dolphins in the Amazon basin; emphasizing cost-effective methods that can be readily standardized and adopted by researchers throughout South America.
Ph.D. Student Marine Science & Conservation, Duke University
M.Sc. Environmental Science 2018, University of Massachusetts at Boston
B.S. Biology 2006, State University of New York at Cortland
charles.muirhead@duke.edu
curriculum vitae | Personal Website | LinkedIn | Mendeley | ResearchGate
Jillian Wisse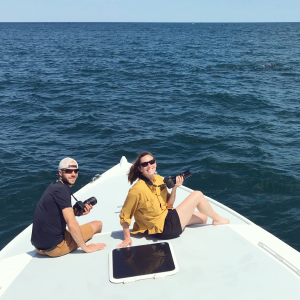 Jillian's dissertation work investigates the physiological responses of short-finned pilot whales to naval sonar. By developing analytical chemistry methods for hormone analysis and establishing physiological baselines, she aims to improve our understanding of the behavioral ecology of poorly understood species and how they respond to environmental disturbances, like ocean noise.
Ph.D. Candidate, University Program in Ecology, Duke University
B.S. Biological Sciences 2011, University of North Carolina at Chapel Hill
jillian.wisse@duke.edu
curriculum vitae
Taylor Machette
Ph.D. Student Marine Science & Conservation, Duke University