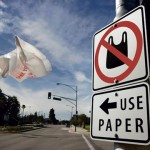 Every day millions of Americans can be seen buying groceries, visiting the pharmacy, or shopping for clothes.   They visit a variety of retailers for different purposes, but they all walk out with the same thing: plastic bags.  Plastic bags are so widespread that one may even consider them indispensable.  That's why the next time you walk up to the check-out counter, you might be surprised to see that these customary items have disappeared.  That is exactly what is happening in more than 50 cities across the state of California.  This trend was inspired by a plastic bag ban that started two years ago, when Washington D.C. discovered that plastic bags account for about half of the waste that ends up in local streams.  Now cities such as Santa Cruz and San Francisco have taken up the cause.  These policies not only ban plastic bags, they also require customer to pay a 5-10 cent charge for every paper or compostable bag they receive with their purchase (Richtel 2012).  Local officials hope that these policies will encourage people to be more waste conscious.
Disposal Issues
You may be asking yourself, why this sudden attack on plastic bags?  What makes them so bad?  It all comes down to disposal.  Out of the approximately 500 billion plastic bags in distribution each year, less than 4% are recycled (Wagner 2012).  Those that are disposed as municipal waste are either burned or end up in landfills.  Both options have negative effects on the environment.  Plastic bags are made from petroleum and toxic chemicals.  These toxins are released into the atmosphere each time these bags are burned ("Why Ban" 2012).  But landfills aren't the solution either.  Since plastic is not biodegradable, when it's sent to a landfill, it stays there.  Unfortunately, these are not the only two ways that bags are disposed of.  Millions of plastic bags end up in the oceans, causing the deaths of marine mammals who mistake them for food (Wagner 2012).  If this problem isn't resolved, it can have a considerable amount of impact on natural life.
Ban Faces Resistance
Since plastic bags seem to cause so many problems, you might expect there to be an overwhelming support for these bans.  But that isn't the case.  There are people who are skeptical about how much of an effect this ban will have on the environment.  They wonder whether these benefits are enough to overcome the costs.  Although a 10 cent charge per bag might not seem like a lot, for a working class family living paycheck to paycheck, it certainly takes a toll.  And it isn't just customers who are upset; some retailers are also speaking out against these policies.  "Higher-end" stores have complained that it seems ridiculous to charge someone 10 cents for a bag, after they just spent hundreds (or even thousands) of dollars on a product (Richtel 2012).  But the ban is not optional.  Retailers and customers alike are required to comply.
Reusable is the Way to Go
Clearly the ban on plastic bags has stirred up some controversy, but if we weigh the costs and the benefits it seems that this policy is for the best.  The challenge will be to get people to adopt new habits.  Plastic bags are mostly for convenience sake and it will take some time for us to get used to not having this commodity.  But just like with all change, it will eventually blend into the status quo and we won't see it as a burden.  Nevertheless, the plastic bag ban policies can be further improved.  Although paper bags pose less harm than plastic ones, they aren't free of repercussions.  After all, it takes a lot of trees and energy to manufacture them.  For now, it seems that the best option is reusable.  So on your next trip to the supermarket, save yourself a few cents and remember to bring along a reusable bag.