April 2017 Newsletter

Your participation counts! Help us finish the Duke Forward Campaign strong!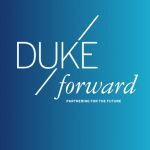 The seven-year, university-wide Duke Forward campaign ends on June 30th and – thanks to donors like you – the Nicholas School is closing in on our $100 million campaign goal. Recently, we kicked off a $25 million financial aid initiative Forging Future Leaders Together that will extend beyond the campaign's end, and many of you quickly responded with your support for this important effort to increase access and opportunity for deserving students. (We even received an anonymous gift of $1 million to get things rolling!) Click here to learn more.
Admitted students on campus check out the Nicholas School

Each year, we invite the amazing candidate we have accepted into our Master of Environmental Management program to come to campus to learn more about our academic program and help them make their decision to which graduate school to attend. Click here to learn more.
Coast-to-coast 25th anniversary celebration wraps up

From Durham to D.C. to San Francisco, the Nicholas School community has come together to celebrate the school's 25th anniversary. Click here to learn more.
Duke team's undersea robot competes in major ocean discovery contest

A team of faculty and students from Duke's Nicholas School of the Environment and Pratt School of Engineering is one of 21 international research teams selected to compete in the 2017 Shell Ocean Discovery XPRIZE. Click here to learn more.
Enter the I am Duke Environment Spring Photo Contest
All members of the Nicholas School community, including donors, are invited to participate in the I am Duke Environment Spring 2017 Photo Contest and share how YOU are representing Duke Environment. Click here to learn more.