Fish Consumption Resources and FAQ
---
Fish Consumption Resources
"Stop, Check, Enjoy!" Campaign Materials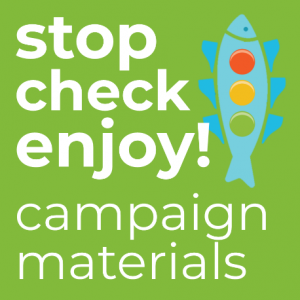 Other Helpful Resources
US EPA – "Should I Eat the Fish I Catch?" brochure (English) (Español)
US FDA – "Advice about Eating Fish For Women Who Are or Might Become Pregnant, Breastfeeding Mothers, and Young Children"
US EPA and FDA – "Fish: What Pregnant Women and Parents Should Know"
Dartmouth Toxic Metals Superfund Research Program – "Mercury: What you need to know"
UNC Chapel Hill Superfund Research Program – "Contaminants in Fish"
Michigan Department of Health and Human Services – "Eat Safe Fish" materials from Michigan
Have a question about contaminants and health? Contact the ATSDR Info. Line: 800-CDC-INFO
Understanding Fish Consumption Advisories
Current Mercury Advisories By County – North Carolina Department of Health and Human Services
General Mercury in Fish Advisory for North Carolina – North Carolina Department of Health and Human Services
What You Need to Know about Eating Freshwater Fish in North Carolina: Fish Consumption Advisories – NC State Center for Human Health and the Environment
---
Frequently Asked Questions
---
1. Why are children & pregnant women more at risk from mercury exposure in fish?
Mercury can affect the development of fetuses and children. Small doses matter; children breathe, eat, and drink more relative to their size than adults. Their bodies and brains are still developing. They also have more skin surface area than adults.
2. Where can I find current fish consumption advisories for my area?
Visit bit.ly/eatsafefish to find current advisories for the state of North Carolina, by waterbody.
3. Why does the DUSRC CEC focus on subsistence fish consumers? And what is a subsistence fish consumer?
A subsistence fish consumer is someone who depends on fish as a supplemental source of food (protein) in the diet. He or she regularly consumes fish caught from a local water body. The CEC focuses our efforts on subsistence consumers because they have a higher dose (exposure) to contaminants in fish because they frequently consume fish from local waters that may contain contaminants.