By Dr. Andrew Hawkey, Postdoctoral Associate–Psychiatry & Behavioral Sciences
On a perfect sunny day in late October, groups of AP science students from Orange High School put down their textbooks and headed for the woods.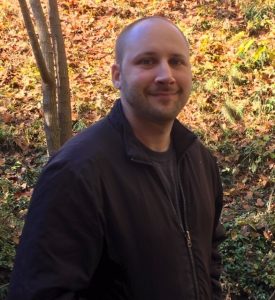 We gathered by the Riverwalk in downtown Hillsborough, NC to meet with experts who monitor and protect the local environment, including forestry service personnel, local government officials, and Eno River Association (ERA) staff. Students learned about fire and invasive species, water quality testing, stream restoration and storm water management, and assessing stream health firsthand through a brief biodiversity survey. I volunteered with the ERA team and was able to see and show the students a hidden, local ecosystem that has benefitted from environmental stewardship.
Beneath the rolling waters of the Eno River, many animals hide among the rocks and sand, including a wide array of invertebrates like crustaceans, insects, mollusks and worms. These creatures can tell you a lot about the health of a river. Some, like fly nymphs and larvae found in the Eno, are extremely sensitive to various water pollutants. If you find them in a river, it's a sign of a healthy stream. If they're absent, that stretch of water might be in trouble. Streams dominated by organisms that are more tolerant of pollutants and other disturbances, such as leeches, can also indicate contamination.
With the health of the Eno River on their minds, the students surveyed the river for these tiny indicators of stream health. They were eager to participate and waded into the ~2ft water with an assortment of nets and plastic containers. Those with nets stood just downstream to collect the small animals as their classmates turned over rocks and stirred up the sediment to release the small animals into the current.
With their collection work in the river finished, the students excitedly sorted their catch into plastic containers. We identified at least 14 different species in a small (~30ft) section of river. Most common were the aquatic larvae and nymphs of flying insects including stonefly, dobsonfly, damselfly, fishfly, mayfly and dragonfly. Purely aquatic invertebrates were also found, including whirligig beetles, water pennies, crayfish, freshwater clams and mussels, and one species of aquatic worm. We even uncovered two species of insect that could not be identified! The students considered their findings and with our guidance concluded that this stretch of stream ecosystem was healthy and diverse. Their survey was largely dominated by species that thrive in environments with limited contamination.
The health of this stream and its rich biodiversity show the importance of environmental stewardship. Although the collection site was secluded, the Eno River is part of the expansive Neuse river basin, and runs through a number of highly developed areas, including Orange and Durham Counties. The expanding footprint of development has changed the flow of the river and inputs from storm water, waste, and human activities can alter these fragile ecosystems. Local initiatives for the protection of water have been put in place to buffer against urban runoff and prevent various sources of contamination. These types of practices and policies need to be enforced and expanded upon to maintain the health of the river and the many communities it intersects.
A highlight for me of working with these students was the obvious excitement they showed for environmental science. Although they had never done field work before, they enthusiastically gathered data and learned about the health of their environment. From a conservation standpoint, it is important that our young people are engaged in this work and understand that they can play a role in the planning and decision-making that impact our natural resources and communities. With the help of programs like this, we can train and recruit young and motivated partners that can carry the work of environmental stewardship forward into the future.