By Gina Daniel
From November 6th
-10th I attended the 7th Society of Ecotoxicology and Chemistry (SETAC) World Conference in Orlando, Florida. I am a first year Master of Environmental Management Candidate at the Nicholas School studying Ecotoxicology and Environmental Health, and the current Science Communication Assistant for the Duke Superfund Research Center. I heard about SETAC through my professors and second year MEM student Rachel Whitson, and jumped at the opportunity to attend such a distinguished conference. The generous support from the Nicholas School professional development fund helped make this experience possible.
The whole week was a whirlwind, but here is a short recap of the SETAC conference from the perspective of a first time attendee.
Professional Development Course
On Sunday November 6th, I participated in the Environmental exposure and risk assessment for formulated consumer products professional training course taught by professionals from Waterborne Environmental and the American Cleaning Institute. I have previously taken the risk assessment course offered by the Nicholas School but I wanted to expand my knowledge on risk assessment techniques associated with consumer products. I learned the risk assessment processes specifically associated with consumer products along with how to use the iSTREEM software from this course.
Platform Sessions
During the week there were short 15 minute presentations hosted throughout the day. These sessions provided a great opportunity to learn about new research, policy, and techniques from the experts that developed them. The topics spanned across everything you could think of related to ecotoxicology and chemistry. There were so many sessions offered throughout the day simultaneously it was sometimes difficult to decide which one to choose.
Superfund's Presence
While at the conference I was on the lookout for Superfund related talks, posters, and events; and they were in abundance. Dr. Ellen Cooper of the Duke SRC Analytical Chemistry Core and Trainee Casey Lindberg both presented posters (pictured below).
Dr. Ellen Cooper with her poster on flame retardants in consumer products (Photo credit: Gina Daniel)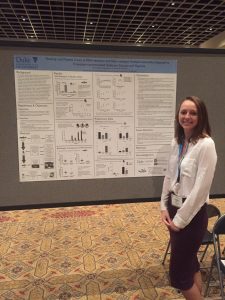 Casey Lindberg with her poster on her research associated with Project 3 (Photo credit:Gina Daniel)
Student Events
I greatly appreciated the effort taken throughout the conference to provide events targeted for students. I was able to participate in a student mentor dinner, a career navigation event, and a student seminar. The student group of SETAC, the North American Student Advisory Council (NASAC), did a great job in organizing events and providing support to first time students like myself.
Networking, Networking, Networking
(Image credit: NASAC)
With over 2,000 people in attendance this SETAC conference was a perfect opportunity to use the networking skills I have learned from the Nicholas School Career Development Center. Meeting so many amazing scientists at this conference was probably one of the best parts. I was able to learn more about the field, career opportunities, and general advice from many other attendees.
Overall, I left Orlando with much more knowledge about the fields of Ecotoxicology and Chemistry and more sure in my intended career path. I am very happy that I was able to attend with the support from the Nicholas School and I can not wait to go back!