By Dr. Ed Levin
The Neural and Behavioral Toxicity Assessment (NBTA) Core here at Duke is headquartered in my lab in an old garage in downtown Durham that has been renovated inside to be a state of the art animal neurobehavioral test facility. As the name implies, the NBTA Core assesses the neural and behavioral toxicity of chemicals in fish and rats for other Superfund scientists based on their studies. We test the potential effects that chemical exposure in early life stages can have on a developing neural system, which is responsible for determining normal functions in an animal such as movement, sensory function, learning, memory, stress response, and social behavior. These impacts on normal function seen in animal models can then be related to similar effects found in epidemiological studies – making the link from the mechanistic studies of the Superfund Research Program to behavioral and functional studies.
As a support core in the Superfund Research Center, we work across projects to support research findings. We have a very close working relationship with the folks in the Stapleton, Slotkin, and Di Giulio Labs, and together, we are determining the behavioral consequences of early life exposure of zebrafish to flame retardants and other chemicals. As we've discussed in previous posts (here and here and in the links below), people are widely exposed to flame retardant compounds found in a variety of everyday items in our lives such as furniture and electronic devices. This is very important for pregnant women, whose babies have the potential to be exposed during the period of their lives when the brain is in its primary phase of development.
We explore the interaction of chemicals and the brain by using zebrafish. With zebrafish we can directly observe the impacts of flame retardant chemical exposure on brain development. With the behavioral tests we can determine the short-term and long-lasting impacts on normal function from that early-life exposure. We are testing impacts on sensory and motor function, predatory avoidance behavior and foraging behavior as well as learning and memory. Our work brings together the mechanistic and applied science to solve a real-world problem of environmental toxicology.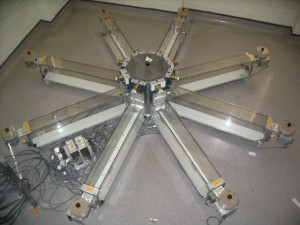 Our recent studies have found that developmental exposure to organophosphate pesticides like chlorpyrifos cause long-term effects on learning and memory as well as greater startle responsiveness and impaired predatory escape behavior. In rats (and other mammals like humans) there are normal differences in learning and memory patterns between males and females. When we did these studies in rats, we found that the differences between male and female behaviors were smaller. This should raise some significant concern, since these effects have also been found in human studies – not only with pesticides but also with chemicals like lead and flame retardants.
Our NBTA core is working to better understand how chemicals affect normal learning and behavior so that we can better predict risks of other chemicals and determine better treatments for those who have been exposed. There's still much work to do – we'll keep blogging about our work, so stay tuned!