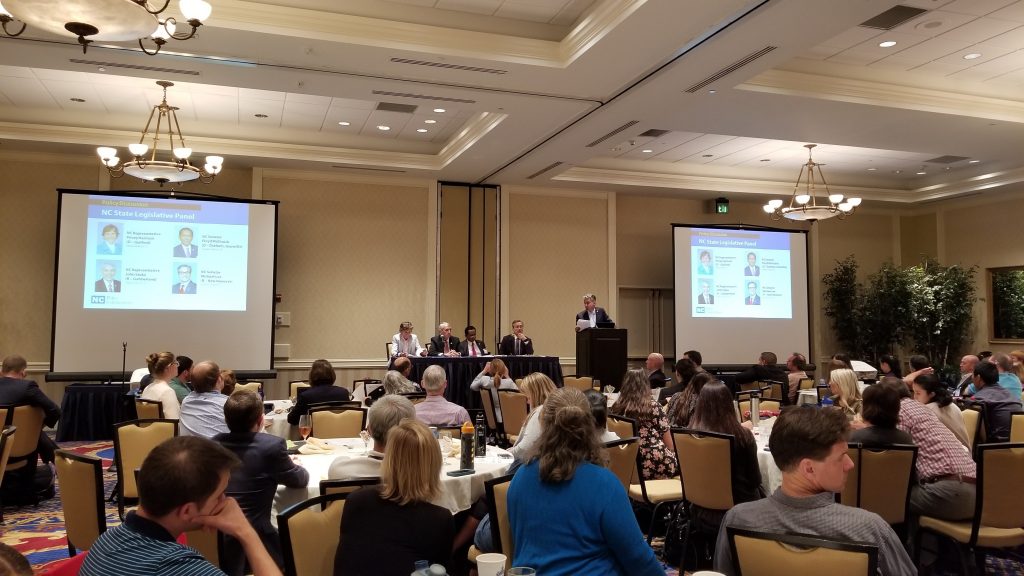 Scientists from across North Carolina are coming together to study the issue of PFAS contamination in the state. A State-funded $5 million grant will seek answers on the nature of these chemicals, where they can be found in the environment and the routes they take to get there, and any potential health effects.
—
These days, most North Carolinians have heard of the chemical GenX. The unpermitted release of GenX into the Cape Fear River, and its presence in drinking water within the basin have led to news stories, scientific studies, and court battles. The Chemours Company has been ordered to halt these unlawful discharges and the levels of GenX in drinking water have fallen. But GenX is just one of many per- and polyfluoroalkyl substances (PFAS) that have been used in all sorts of industrial processes for decades. These chemicals are ubiquitous in the environment and in our bodies, and some have been shown to cause health problems, but we know surprisingly little about them.
Researchers at Duke, across the state, and beyond are collaborating to answer important questions around PFAS contamination, exposure, and health effects. On September 28, 2018, experts met on Duke's campus for a symposium on these emerging contaminants and to discuss upcoming PFAS monitoring efforts. You can find a recording of the symposium here.
Duke Superfund's Role
In the Summer of 2018, the North Carolina General Assembly appropriated $5.013 million to study and test for PFAS contamination throughout the state. This effort will sample every public surface water intake and public water well at least once (approximately 348 sample sites) to test for the presence of PFAS in drinking water.
The Duke Superfund Research Center, and Lee Ferguson and the Analytical Chemistry Core specifically, will play an active role in testing these water samples. Instead of testing for the presence and concentration of a single chemical or small group of chemicals, the Core can perform a 'non-targeted analysis' (NTA) to identify many different compounds with a single test, and can even find the signature of never-before studied chemicals. This is crucial when studying the dizzying array of PFAS compounds–NTA lets researchers identify and quantify chemicals without the need to know what they're looking for ahead of time. With so many different individual PFAS compounds and their residual components present in the environment, NTA can help inform complex environmental health risk assessments.
In addition to overseeing the Analytical Chemistry Core's work, Dr. Ferguson will also serve as co-chair of the study's advisory committee along with Dr. Detlef Knappe of N.C. State University.
PFAS in North Carolina
A study found that in North Carolina from 2013-2015, over 13% of public water systems had at least one detectable PFAS compound, a rate three times as high as the national average. This contamination is mainly found in the Cape Fear River basin, where about 1 million people are affected by wastewater discharges containing high levels of industrial contaminants (conventional wastewater treatment is not designed to remove PFAS and other emerging chemicals). At times during the year, more than one-third of the Haw River's flow near Bynum, NC is made up of treated wastewater effluent. Testing is currently being done to assess the level of PFAS contamination in the river from upstream industries.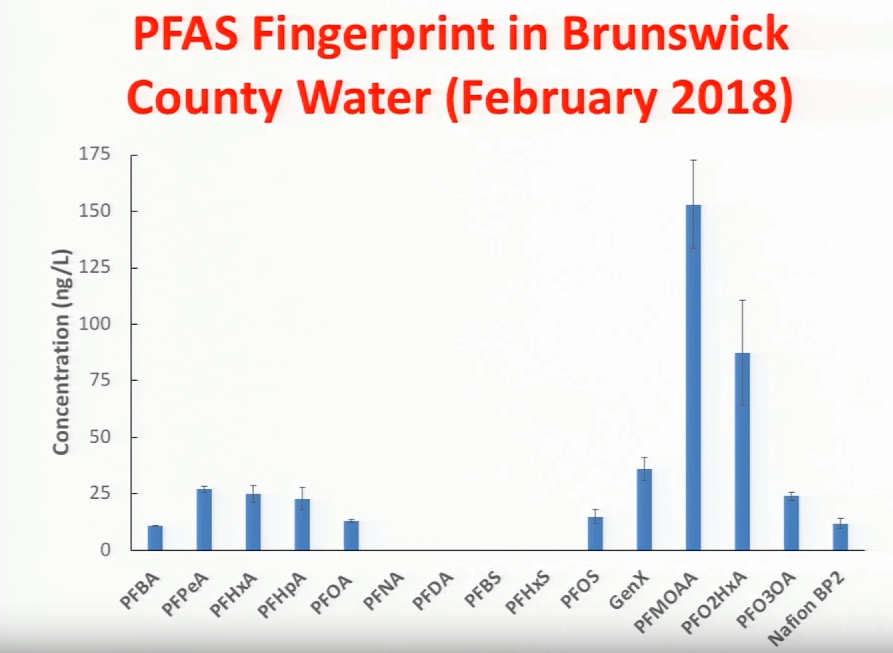 In addition to treated wastewater, biosolids–the sludge leftover from wastewater treatment–can introduce PFAS chemicals into the environment during rain events. Also, firefighting training areas including military bases are often sources of PFAS contamination. The state-funded PFAS study will also assess potential contamination from air emissions. PFAS chemicals in the air can be deposited along with other particles and end up in sediments and water.
The Research Moves Forward…But More Work To Do
Researchers have made major strides to improve understanding of these chemicals, but more work needs to be done. There are still many PFAS for which we have limited information on chemical structure, toxicity, uses, and other characteristics. The various routes of potential exposure and how the compounds might interact with one another in the body are also still being explored. And when it comes to filtering out these chemicals, there's not really a single best option. Public drinking water systems in the state have implemented or are planning different treatment regimes, including activated carbon filters and reverse osmosis, but each has its down side. For homeowners and private well owners looking into point-of-use filters, under-sink reverse osmosis systems seem to be the best at removing PFAS chemicals, but they can be expensive to purchase and maintain.
Some promising approaches from Europe have the attention of researchers like Ferguson and Knappe, who see a potential solution for monitoring North Carolina's waters. This symposium was a way for one group to share their work with the symposium audience. Dr. Matthias Ruff, a research analytical scientist from the organization EAWAG (the Swiss Federal Institute of Aquatic Science and Technology), shared his work leading a team conducting daily trend monitoring and spill detection in the Rhine River for pollutants using targeted and non-targeted analytical methods. Dr. Ruff and colleagues screen the Rhine's water daily for hundreds of potential contaminants using monitoring probes near the river bed. The team detect concentrations in the water, and because the flow rate of the Rhine at Basel, Germany is known, they can approximate the contaminant loads over time and space.
The analytical capability, which Duke and collaborators also have, has allowed EAWAG to pinpoint spills and previously unknown releases, and they've been able to work with industry in some cases to resolve problems. The monitoring network is one appealing option in tracking contaminants like PFAS, due to the multitude of sources and complex mixtures discharged into the many rivers, lakes, and streams of North Carolina. The exchange of ideas and approaches at this first symposium of the NC Policy Collaboratory highlighted the need for more information and the promise of additional research to better understand the complex nature of PFAS compounds in our state's waterways.