2022 – 2023 Consultants
Danlei Zou
Degrees: Master of Environmental Management
Concentration: Business & Environment
Consultant Strengths: Research papers/reports, presentation practice, business memos, resumes, cover letters
About: Danlei is a second year MEM student from San Francisco interested in corporate sustainability and consumer behavior. At the Nic School, Danlei is the Vice President of the Duke Sustainability Board. Before coming to Duke, she graduated from UC Santa Barbara with a Bachelor's degree in Environmental Studies where she conducted a thesis project on consumer behavior towards sustainable fashion. Danlei has previously been a research consultant for the World Bank on the Global Health Engagement team and a strategy associate at ZS Associates in their Business Consulting team.
Courses taken with Writing: ENVIRON 811 (Business and Environment), ENVIRON 782 (Marketing for Environmental Professionals), ENVIRON 831 (Sustainable Business Strategy), EGRMGMT 563 (Supply Chain Management), ENERGY 638 (Environmental LCA)
---
Erin Keleske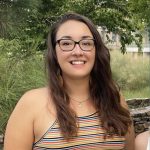 Degrees: Master of Environmental Management
Concentration: Environmental Economics and Policy
Consultant Strengths: policy memos, popular science and narrative writing, communications planning and strategies, graphic design, presentations and public speaking,
About: Erin is a second year from Wisconsin, interested in conservation policy of both land and freshwater systems. Before Duke, she worked for the City of Milwaukee on Great Lakes policy, climate advocacy, and communications campaigns for a range of conservation and environmental equity projects. Before transitioning to the social sciences, Erin got her Bachelor's in Biology from Kenyon College where she wrote an honors thesis on paleoclimate modeling. In addition to this experience in science writing, Erin conducted research on effective communications strategies to combat climate denialism. When not working at the Comms Studio, Erin is the Director of the Nicholas School Student Council, the President of Conservation Society, and on the board for Coding 4 the Environment. She also has worked as a professional communications consultant for environmental organizations and nonprofits.
Writing-intensive Courses Taken: ENVIRON 517 (Tropical Ecology); ENVIRON 835 (Environmental Law); ENVIRON 577 (Environmental Politics); ENVIRON 506 (Environmental Justice: Theory and Practice); ENVIRON 790.04 (Environmental Security and Peacebuilding); ENVIRON 590.04 (Transboundary Water Management); ENVIRON 738 (US Water Governance)
---
India Mackinson
Degrees: Master of Environmental Management
Concentrations: Coastal Environmental Management
Consultant Strengths: Policy Memos, Science and Policy Research Papers, Popular Science/Science Communication, Cover Letters, Resumes
About: Originally from Charlotte, India has lived in North Carolina from mountains to coast. She currently resides in Morehead City as a student at the Duke Marine Lab. She brings several years of writing and science communication experience to the Comms Studio after graduating from UNC-Chapel Hill with a degree in environmental studies and journalism with multiple science writing internships under her belt. Before Duke, she worked in public communications and coastal policy with the Town of North Topsail Beach, North Carolina. She brough those interests to the Nic School, where she is focused on coastal resilience and climate adaptation policy. In her free time, India enjoys embroidery, reading, and tending to her container garden.
Courses Taken: ENVIRON 775 (Ocean & Coastal Law & Policy), ENVIRON 559 (Fundamentals of GIS and Geospatial Analysis), ENVIRON 755 (Community-Based Environmental Management), ENVIRON 614S (Coastal Resilience in the Face of Climate Change), ENVIRON 765 (Coastal and Marine Geospatial Analysis), ECS 715 (Intro to Coastal Processes)
---
Fall 2021 – Spring 2022 Consultants
Rachel Earnhardt
Degrees: Master of Environmental Management
Concentrations: Environmental Economics and Policy, Certificate in Community-Based Environmental Management
Consultation Strengths: Cover Letters, Memos,
Accessible Scientific Writing, Presentations
About: Born and raised in Raleigh, Rachel recently made the big move to Durham to pursue a MEM. Before starting at the Nicholas School, she served with FoodCorps AmeriCorps teaching gardening and cooking to kids, WWOOFed up and down New Zealand, and read a lot of books. To the Comms Studio, Rachel is excited to bring lessons learned from working as a writing tutor at her college writing workshop and providing editorial support at a policy journal. For Rachel, writing consultation is all about helping people tell their stories more effectively.
---
Brenda Warger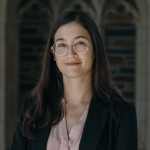 Degrees: Master of Environmental Management
Concentration: Environmental Economics and Policy
Consultation Strengths: Resumes, Written application material, Cover Letters, Memos (policy-focused or other)
About: Brenda is from Miami, Florida, and graduated summa cum laude from Florida State University in 2016 with her B.S. degree in Environmental Studies. After four years in policy and business administration roles for environmental nonprofits and Miami-Dade County, she began her Master's degree at the Nicholas School of the Environment. Brenda is particularly interested in policy approaches that create enabling environments for renewable energy. In her free time, Brenda enjoys thrift shopping, sewing, and consuming boba tea.
Spring 2020 Consultants
Johanna Kluck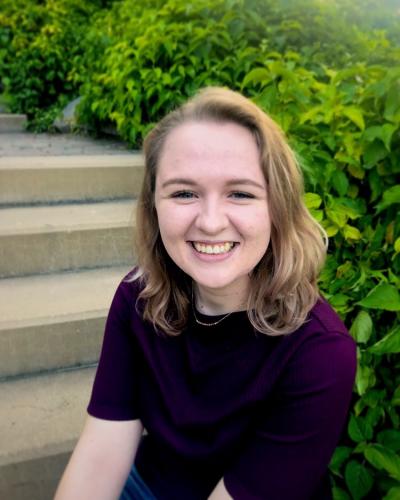 Degrees: Master of Environmental Management
Concentrations: Environmental Economics and Policy
Areas of expertise: Scientific Communication, Presentations, Resumes and Cover Letters
About: Jo hails from Nebraska and previously studied in Iowa where she worked as a peer writing consultant. Here at Duke, Jo is interested in learning more about environmental policy and risk assessment, particularly toxicological and catastrophic risk. Beyond academics, Jo likes to play basketball, write slam poetry, and explore the world.
Degrees:
Master of Environmental Management/Master of Forestry
Concentrations: Ecosystem Science and Conservation
Areas of expertise: scientific communications, resumes, cover letters
About: Kim is originally from Wrentham, Massachusetts but has lived in New York City and Washington, D.C. since leaving home. She came to the Nicholas School to study the nexus of forest conservation and community livelihoods in developing countries. Last summer, she had the opportunity to work as a GIS Intern for The Nature Conservancy and spent a month in Oaxaca, Mexico, collecting data for her Masters Project. When she's not reading textbooks and scientific articles, she enjoys going to the gym and watching thrillers.
Fall 2019 Consultants
Kyle Cornish
Degrees: Master of Environmental Management
Concentrations: Environmental Policy and Analysis
Areas of expertise: Cover letters, scientific communications, memos
About: Born and raised in Arlington, Virginia, Kyle grew up in close proximity to the political capital of the United States. After graduating from the University of Virginia in 2017, Kyle worked on ocean policy and public lands issues in Washington, DC. This summer, Kyle interned with a local climate justice nonprofit organization in Durham. Kyle is interested in how inclusive management and policy strategies can be implemented to enhance marine conservation and promote social justice.
Grace Hancock
Joint CPDC & NSOE Career Fellow
Degree: Master of Environmental Management
Concentrations: Environmental Economics & Policy, Community Based Environmental Management
Areas of expertise: professional writing: cover letters, resumes, personal statements, memos (policy-focused & other)
About: Grace worked for eight years advising environmental non-profits on finance and strategy before coming to the Nic School to study urban environmental policy. Beyond classes and her Masters Project, which focuses on planning a sustainable tree canopy in Durham, she tries to find time for the occasional run around East Campus, gardening, or exploring new (to her!) parts of NC.
Lannette Rangel
Joint CPDC & NSOE Career Fellow
Degrees: Master of Environmental Management
Concentrations: Environmental Economics and Policy
Areas of expertise: Resumes, cover letters, memos
About: Lannette is a Californian at heart. Originally from Oceanside, California, she has lived throughout the state over the years, and now calls Lake Tahoe her home. She pursued studies at the Nicholas School to experience a different part of the country while studying the intersection of environmental science and policy. Over the summer she interned in Washington D.C. for the National Wildlife Refuge Association, developing communication materials to promote the organization's mission and inform the public of the importance of wildlife refuges. Outside of her academic pursuits, she enjoys dancing, yoga, singing, and advocating for the planet and its voiceless creatures.