Johanna Depenthal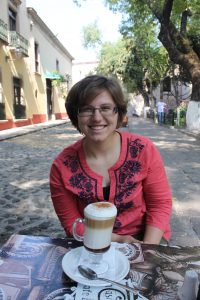 Degrees: Master of Environmental Management (MEM)
Concentrations: Ecosystem Science and Conservation
Areas of Expertise: Scientific communication, creative writing, brainstorming
About: Johanna is fascinated by tropical forests and community-based conservation.  Prior to moving to North Carolina, she spent time in Guyana, Peru, and Puerto Rico, where she taught middle school science for a year in a bilingual classroom. At Duke, she helps map elephant movements in Gabon with the Poulsen Ecology lab, and spent this past summer in Mexico conducting research for her Master's Project on Payments for Ecosystem Services. In her free time, she organizes potlucks and serves as Outreach Coordinator for Streetside Conversations, a online publication that aims to prompt reflection and motivate action for justice worldwide.
Contact: johanna.depenthal@duke.edu
---
Rachel Kriegsman
Degrees: Master of Environmental Management (MEM)
Concentrations: Duke Environmental Leadership; Business & Environment
Areas of Expertise: Scientific communication, resumes, and cover letters
About: Rachel is a Duke Environmental Leadership student pursuing her Masters in Environmental Management. In addition to her time at the Nicholas School, she is currently a development coordinator at the Carolina Farm Stewardship Association where she works with farmers to tell their success stories and promote sustainable agriculture in the southeast. Prior to her work at CFSA, Rachel worked in Washington, D.C. for the League of Conservation Voters and the Union of Concerned Scientists. Rachel is happiest when hiking, yoga'ing, or hosting any event that involves good food. Rachel serves on the board of DICE – Diverse and Inclusive Community for the Environment at Duke.
Contact: rachel.kriegsman@duke.edu
---
Alex O'Neill
Degrees: Master of Environmental Management (MEM) & Forestry (MF)
Concentrations: Ecosystem Science & Conservation; Forest Resource Management
Areas of Expertise: Scientific communication, creative writing, and resumes with a focus on federal employment
About: Originally from Washington, D.C., Alex has spent several years conducting environmental research in South Asia, first as a David L. Boren Scholar in Nepal and later as a Fulbright-Nehru Research Scholar in Sikkim, India. After these experiences, he joined the International Union for Conservation of Nature where he wrote species assessments for the Red List of Endangered Species. This summer, Alex will integrate these experiences into policy as an intern at U.S. Department of State's Bureau of Oceans and International Environmental and Scientific Affairs. Namely, he will serve on the interagency team investigating the environmental outcomes of U.S. trade agreements.  For fun, Alex enjoys trail running, experimenting with fermented foods, and walking his Shetland Sheepdog, Ranger.
Contact: alexander.o.neill@duke.edu
---
Reed Perry
Degrees: Master of Environmental Management (MEM)
Concentrations: Environmental Economics and Policy
Areas of Expertise: Policy writing (memos); strategic communication (press releases, statements); and career (resume, cover letter)
About: Reed is completing his second year in the Master of Environmental Management program at the Duke Nicholas School of the Environment where he concentrates in environmental economics and policy. Reed is a Nicholas Scholar and pursuing a career in land conservation and water resources policy.
Contact: reed.perry@duke.edu