The Cancer in the Environment study (CIE) is investigating links between exposures to flame retardant chemicals and the incidence of papillary thyroid cancer (PTC), and it is a collaborative project with Dr. Julie Ann Sosa's group in the Duke Cancer Center. The incidence rates for PTC have been increasingly rapidly in the 2000's, and the causative factors are unknown. Several types of flame retardants have chemical structures that are similar to thyroid hormones, and exposure to flame retardants has been shown to result in thyroid hormone dysregulation in animal studies. The goal of this project is to determine if increasing exposure to flame retardants is related to the increasing occurrence of papillary thyroid cancer in US populations.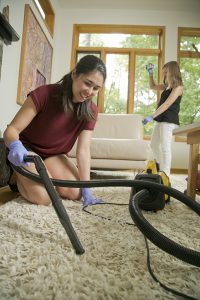 In 2017, we conducted a case-control study in North Carolina, investigating associations between exposure to flame retardants and PTC. While our sample size was small (n=120), we did find higher concentrations of flame retardants in homes of individuals diagnosed with PTC, compared to a control population that was similar in terms of their demographics. Our results were recently published in the journal Environment International (see Hoffman et al. 2017).
The second phase of the project involves participants wearing a silicone wristband for a week and filling out a questionnaire focusing on their daily environments and habits. The silicone wristbands collect or sample contaminants in the air, and are can provide measurements of an individual's exposure to flame retardant chemicals through multiple locations (e.g. home, work, etc). This project was launched in July 2017, and is currently ongoing. Our goal is to recruit 100 newly diagnosed papillary thyroid cancer patients and 100 healthy controls. For more information on this study, or if you are interested in participating, please contact Professor Heather Stapleton (Email: heather.stapleton@duke.edu). This project has been supported by a generous donation from Fred & Alice Stanback, the Duke Cancer Institute, and the Nicholas School of the Environment.