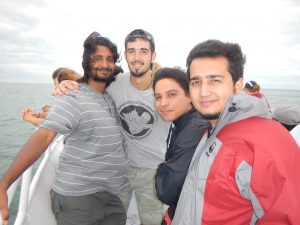 For two decades, conservation practitioners, professors, and graduate and undergraduate students from around the world have come to the Duke University Marine Laboratory (the Nicholas School's coastal campus) for a summer as Global Fellows in Marine Conservation to take part in five-week program that prepares them to return home to develop in-country conservation efforts and build cross-country networks, often with small grants provided by this program.
These prized fellowships, made possible through philanthropic support, cover travel expenses, room and board, and tuition for several courses. Most important, these fellowships provide access to a once-in-a-lifetime learning, networking, and capacity-building opportunity that gives Global Fellows the knowledge, skills and a network of faculty and fellow alumni they'll need to effect meaningful change in their homelands.
Since its inception, the Global Fellows program has relied heavily on philanthropic support to achieve its mission. But with its founding leadership grant winding down, the Nicholas School is looking for new benefactors to help this program continue to thrive and grow.
Here are some ways that you can invest in the future leaders of global marine conservation:
For $13,000, you can sponsor a fellowship that will enable an international scholar to travel to the Duke Marine Lab and participate in the cornerstone five-week summer program. Or, make an even greater impact by funding several fellowships.
For $20,000, you can help as many as ten Global Fellows from other countries come to the Duke Marine Lab to participate in a weeklong marine conservation workshop.
For $120,000 or more, you can make it possible for an international scholar to participate in the Nicholas School's two-year Master of Coastal Environmental Management degree program.
For $250,000 or more, you can create an endowment that will provide ongoing, long-term support for the Global Fellows program.
For $340,000 you can support an international doctoral student in the five-year Marine Science & Conservation PhD program.
For more information or to contribute to the Global Fellows program, please click here.