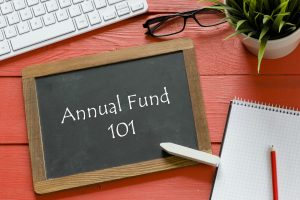 You've probably heard or seen the term "Annual Fund" before, but do you know exactly what it is? You may associate it with solicitations for the school – after all, just last week the school was seeking donations to the Annual Fund for #GivingTuesday. But do you know how the funds are actually used? Or how they make an impact on students? To break it all down, Jake McNabb, Assistant Director of Annual Fund Initiatives, goes over some common misconceptions of the Annual Fund so that you can make informed giving decisions in the future with a basic understanding of the NSOE Annual Fund.
True or False:
"My small $10 donation to the Annual Fund won't really make an impact on the Nicholas School."
FALSE: The majority of donors to the Nicholas School Annual Fund make a contribution of less than $1,000. Moreover, alumni participation in giving is a metric that corporations and grant making foundations use to measure alumni involvement, with consideration given to schools with higher participation rates. In theory, your $10 gift could turn into a substantial grant from a foundation.
"Unrestricted support from the Annual Fund supports nearly every area of the Nicholas School."
TRUE: The Annual Fund supports four critical areas: Financial Aid, Program Enrichment, Special Initiatives, and Operations. From equipping classrooms with technological upgrades to sending students on field trips – the Annual Fund provides flexible support for all areas of the School.
"I can make my donation to the Annual Fund online, in less than 2 minutes."
TRUE: You can make an online donation by visiting https://www.gifts.duke.edu/nsoe. Additionally, as of November 27, 2017, donors who give online are now able to make one-time gifts using Paypal as a payment option.
"I can't make a donation this year, so there's no other way for me to be engaged with the Nicholas School."
FALSE: Giving is only one piece of the Nicholas School's alumni engagement program, Go Grow Give. We encourage our alums to strengthen their connection to Nicholas by attending a School sponsored event in their area or sharing their wisdom with today's students and fellow alumni.  
"I didn't benefit from the Annual Fund as a student."
FALSE: Currently, 88% of Nicholas School students receive some level of financial aid to make their graduate education possible. The Annual Fund plays a critical part in bolstering financial aid and opening doors to our best and brightest students. Furthermore, unrestricted support from the Annual Fund enriches the overall student experience by providing funds for field trips, internships, and student-led groups.
"If I confirm that I am now educated on the Annual Fund, the Nicholas School will send me a special prize."
TRUE: Send Jake McNabb, Assistant Director of Annual Fund Initiatives, an e-mail NOW at jake.mcnabb@duke.edu and you will receive some Nic School swag (tote bag, NSOE stickers, lapel pins, stylus pens, bumper stickers, and more)!
Jake McNabb is the Assistant Director of Annual Fund Initiatives for the Nicholas School of the Environment. A native of Knoxville, Tennessee, Jake joined the Nicholas School Office of Development & Alumni Relations staff in September 2017 after holding varying development roles at Duke University Development and Emory & Henry College. As Assistant Director of Annual Fund Initiatives, Jake manages the Nicholas School's annual giving activities, including maintaining personal contact with alumni, donors, and friends with a focus on increasing alumni giving participation.