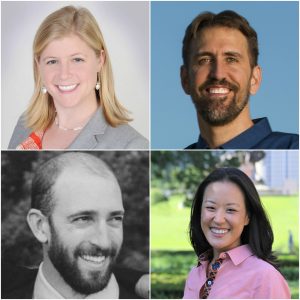 While students were away for the summer, the Nicholas School Alumni Council welcomed four new members that will aid the Council in fostering better relationships between alumni, the school, and the student body. Among the new members are Belton Copp VI MEM/ MBA'16, Ga-Young Choi Park MEM'05, Eric Thu MEM/ MPP'06, and Cakey Worthington MEM/MF'16. All four went through Alumni Council orientation on June 6th earlier this year.
Belton, Ga-Young, Eric, and Cakey will join 14 other elected alumni in their efforts to engage with students, discuss initiatives, and communicate regularly with school administration throughout the year.
Areas of focus for the council this year will include supporting the alumni engagement program go·grow·give in its second year of operation, developing an alumni-student mentoring program, rallying Nic School alumni to join and utilize the Duke Alumni Network, and encouraging alums to support the school's new financial aid initiative to reduce student loan debt.
"I most look forward to speaking with prospective and current students about the source and direction of their ambition in the environmental field.  This is the energy that not only powers the Nicholas School, but also the environmental movement in all its forms.  It is the school's mission and duty to direct and harness this energy through a strong curriculum, and I am equally excited to work with select faculty and staff in designing programs and courses that build true environmental management professionals" – Belton Copp IV, MEM'16
Would you like to serve on the Alumni Council? Contact Glenda Lee for details.