Say No, Obama
Today, concerned citizens led by environmentalists from 350.org, Sierra Club, Greenpeace US, etc., will rally in Washington D.C. to protest the President to reject the Keystone XL pipeline. Just a year ago, President Obama denied TransCanada, a Canadian oil and gas company, permission to build a 1700 mile stretch of underground pipeline from Alberta, Canada to the Gulf Coast of Texas, on the basis that it needed to fully assess both health and environmental impacts of the project. Two months ago, TransCanada resubmitted its proposal providing an alternative route for its pipeline, one that "minimize(s) the disturbance of land and sensitive resources" in Nebraska. By early next year, President Obama will make his final decision regarding this permit, and this time, pundits predict, he won't have a compelling reason to stop Keystone XL.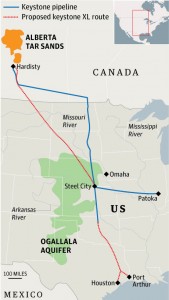 The Keystone XL pipeline would traverse seven Mid-western states, crossing sensitive ecosystems. Environmentalists fear toxic spills from the pipeline into waterways and habited land. In 2010, over a million gallons of diluted bitumen, a mix of tar sands bitumen and liquid chemicals, spilled into Michigan's Kalamazoo River due to a leaking Canadian pipeline. Diluted bitumen, or dilbit, is not only far more difficult to clean up than traditional oil, but it contains chemical additives, increasing its toxicity. In fact, it has been over two years and the cleanup of the Kalamazoo river system is still incomplete. Environmentalists worry about excess amounts of waste water generated during tar sands' extraction process. They worry about the environmental injustices against Canadian indigenous populations and against Americans residing along the pipeline. But the biggest concern for environmentalists is increasing our dependence on a nonrenewable energy source that releases 3x  more CO2 emissions than crude oil. Although President Obama's Copenhagen pledges for carbon emission reduction were not passed by Congress, his policies for supporting developments in natural gas, high fuel efficiency standards, and other emission reduction technologies did nonetheless put us on track for achieving those targets. But if he approves Keystone XL, we backtrack on the progress made on carbon emission reductions. Based on a report by the Canadian environmental ministry, by 2020, greenhouse gases from the oil and gas sector will have increased by one third of 2005 levels due to the extraction of tar sands, despite other reductions.
Despite the wake-up call from Hurricane Sandy, with no currently effective national climate change policy, President Obama likely will not deny Keystone XL on the basis of carbon emission reductions. Duke Professor and former American Diplomat Stephen R. Kelly argues that Keystone XL pipeline should be approved as it will increase our energy security. But the U.S has significantly decreased its reliance on "unstable" oil in the past decade, from 27% of our oil imports coming from the Persian Gulf in 1993 to just 18% in 2010. In fact, for the first time since 1949, U.S became a net exporter of oil. And with its domestic oil and natural gas production, U.S is on the path to becoming "the world's top energy producer by 2020". So regardless of whether Keystone XL is approved or not, we have firmly secured our energy resources. Moreover, misconceptions that Keystone XL pipeline will reduce American oil prices due to increased oil supply available to U.S consumers continue to be circulated. However, allowing Canadian private companies supply access through the U.S does not equate to American rights to that oil. If profitable to export its oil to other foreign markets like China's, now accessible through the Gulf, Canadian oil companies will rightly do so.
Move forward
Arguments for and against Keystone XL have been played out in the past, in the 1960s over the Trans-Alaska pipeline and then in the 1990s over oil exploration in the Arctic National Wildlife Refuge (ANWR). Environmentalists' rhetoric stresses health and environmental damage while industrialists depict it as critical for the economy and decreasing foreign energy dependency. But this time, rather than debating over these repeatedly unresolved arguments, we need to raise alarm on the implications of Keystone XL. Keystone XL sets a major precedent on how our nation will address climate change moving forward. Despite numerous bills issued in Congress, there remains a perpetual gridlock on the passage of any substantial climate change policy.We've only begun to realize that we need to take a whole different approach to reducing our GHG emissions. For example, President Obama's CAFE standards have been major successful climate change initiatives under the pretense of "reducing our dependence on foreign oil". Framing climate change measures under energy policy, by improving energy efficiency or investing in renewable sources, might just be our saving grace. But if President Obama signs the Keystone XL permit, he in effect curtails most arguments for investing in costly but necessary renewable projects. If passed, we get on the path that divests resources away from renewable energy, delaying critical carbon-free solutions. To keep moving forward as a nation in regards to reducing our impact on the global climate and our future, we must first to stop Keystone XL.