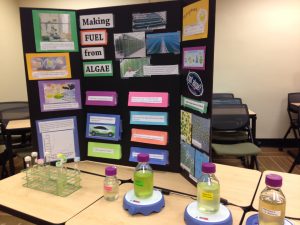 Sarah traveled to Durham this weekend to participate in the annual FEMMES (Females Excelling More in Math, Engineering, and Science) Capstone event on Duke's main campus. FEMMES is an organization run entirely by Duke students who aim to foster girls' interest, excitement, and potential in STEM fields. FEMMES organizes outreach programs including a summer camp, after-school program, Saturday program, and annual Capstone event, all of which are led by female volunteers in STEM fields.
At the Capstone event, girls attend four different workshops throughout the day that are developed and led by female researchers at Duke. This year's event hosted over 300 4th-6th grade girls from Durham. About 40 of these girls participated in Sarah's workshops, which included activities about algae growth requirements and algae cultivation for biofuels. Girls became managers of their own mock algal biofuel companies, and Sarah was thrilled to hear them thoughtfully discussing decisions such as whether they wanted to invest in open or closed reactors for their algae. Cultures of green algae and diatoms on display also captured their attention.
Sarah may not be a doctor just yet, but the "Thank You Dr. Loftus" poster with messages and signatures from workshop attendees shows the impact of the program and is a rewarding keepsake.