Dana Hunt
BA Environmental Engineering, Rice University 2001
BA Biochemistry, Rice University 2001
PhD Environmental Engineering, MIT 2008
Assistant Professor of Microbial Ecology, Duke University 2010-present
I am broadly interested in the factors that drive bacteria diversity and dynamics in the environment.  My research couples the use of cultured model systems (e.g. vibrios) and molecular techniques applied to the unculturable microbial majority.  The lab works on both basic microbial ecology, focusing on small scale temporal and spatial features that structure bacterial populations, and more applied research on the interactions of bacteria with emerging pollutants.
PhD Students:
Jessica Gronniger
BA Davidson College  2016
I am a new PhD student starting Fall 2018!
  Zhao Wang
BS Shandong University 2012
MS Peking University 2015
PhD Student 2015-present
I am studying microbial community and population responses to multiple stressors such as ocean acidification & temperature  as well as nutrients and emerging pollutants.
Technician: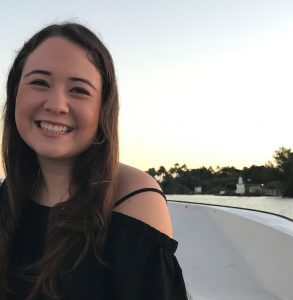 Doris Juarez
BA Smith College 2017
I am working on phytoplankton-bacteria interactions as well as the PICO time series.
Former Graduate Students/ Postdocs:
Dr Nathan Garcia Postdoc 2016-2017
Dr.Tiffany Williams Postdoc 2015-2016, Postdoctoral Associate UNC Charlotte
Dr. Charmaine Yung PhD 2016, Postdoctoral Associate, Worden Lab MBARI
Dr. Chris Ward PhD 2015,  Postdoctoral Associate, Lawrence Livermore National Lab
Katherine M. Davis MS 2014, PhD student, University of British Columbia
Former Visiting Scientists:
Jin-fen Pan Ocean University of China (2017-2018)
Former Undergraduate Researchers:
Phoebe Nduta Independent Study  Fall 2018
Yumin Wang Visiting undergraduate student (Tianjin University)  Spring 2018
Michael Saporito Independent Study  Spring 2018
Claire Yang Independent Study Fall 2016
Doris Juarez REU Summer 2016
Abby Ardis Independent Study Spring 2014

Emily King Independent Study Spring 2014

Jiayu Yang Independent Study Summer 2013
Alejandra Mera REU Summer 2013
Marissa Vereen REU Summer 2012
Agata Kantorowska Independent Study Fall 2011
Amy Herbert REU Summer 2011
Michael Khan REU Summer 2010