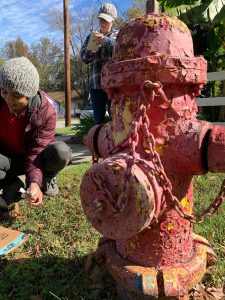 Professor Dan Richter's Durham soil lead mapping project has completed its first phase of sampling and analysis. The project is led by PhD student, Anna Wade, and has been supported by undergraduate and graduate students in the spring and fall of 2019 and spring of 2020. Wade will submit the team's first paper to a peer-reviewed scientific journal in the summer of 2020 and will plan to continue the work as an independent study in the fall of 2020.
Durham's soil lead primarily comes from leaded gasoline and lead-based paint, products which were made largely lead-free by the early 1980's. To map Durham's soil lead, the research team walked and sampled soils along nearly 45 km of Durham's streets, mapped soil lead across Duke's East Campus, sampled soil profiles in ten city parks, sampled soil surrounding Durham's old oak trees and fire hydrants, and sampled soil around residential homes both proximate to foundations and in yards. As a result, the research produced what may be the first soil lead map of a city in North Carolina. Because of the many conversations, interactions, and environmental education opportunities instigated by this project, the team's motto is "Every City Needs a Soil Lead Map!"
Some of the most interesting Durham results are that the highest lead concentrations are found within one meter from home foundations and that foundation soil concentrations are positively related to house age. Richter's team attributes these patterns to the accumulation of lead-based paint chips and dust over time. Lead in soils of household yards are lower than near foundations and are not related to home age, but are correlated with the traffic volume of the most proximate street. Similarly, streetside soils have lead concentrations that correlate with the street's traffic volume – for example, Duke's East Camus was found to be ringed by relatively high lead concentrations in streetside soils.
Richter is collaborating with Dr. Kay Jowers of the Nicholas Institute on a new Catalyst project to advance collaborations on campus surrounding this important issue. Contact Professor Richter by email (drichter@duke.edu) if you are interested in participating in this work. Student assistantships are available.