Christina Bear, a high school student from Golden, visited Duke this summer and toured ITEHP labs to learn about environmental health and toxicology. Christina shares some photos and reflects on her experience.
Looking for the right balance of relaxation and summer learning as a rising high school junior can be quite the dilemma.
I wanted to pursue enrichment in Environmental Health, a field that grabbed my interest in middle school. My brother, Eric, and I initiated a Radon Awareness Project (RAP) in Colorado from 2010-2012. The geographic area where we live in Jefferson County, Colorado has unusually high levels of radon, a radioactive gas that can cause lung cancer with long term exposure. We were motivated to initiate the RAP because so many homeowners we spoke to either did not know about radon or how to test for radon in their homes. The RAP project gave us opportunities for public speaking and to come up with innovative ways of outreach, such as recording a rap song. The highlight of the RAP project was going to the White House for the President's Environmental Youth Award in April 2012 and speaking at a breakout session on youth getting involved in environmental projects and education within their community.
The skills to do the RAP spanned across science, art, writing, theater, and community service as well as talents outside of school.  There was also a social justice aspect related to the Navajo Indians exposure to radon while mining for uranium. Understanding about the interaction of policy and environmental issues was invaluable. The one thing missing was experience in lab research on environmental health issues. And that is when I began my quest for an informative and instructive summer activity for 2014 to supplement my RAP advocacy project. I am happy to say my quest was successful! Based on their national reputation for Environmental Health, I chose to attend Duke University's Superfund Research Center and ITEHP (Integrated Toxicology and Environmental Health Program) in the Nicholas School of the Environment for a 10-day lab exploration.
I shadowed in the lab of Dr. Avner Vengosh with Nancy Lauer, a graduate student who taught me about the potential toxicity of coal ash in North Carolina's Dan River. Dr. Vengosh has published on radon in water and Nancy taught me gamma radiation is smaller and more radioactive than the alpha and beta particles of radon. I observed with Nancy and fellow grad student, AJ Kangosh, how to test water samples to find radiation after water has been treated. Dr. Bill Pan shared his work on global environmental health and Ms. Gretchen Kroeger discussed research translation. During the interaction with my instructors, I appreciated that research can have meaningful impacts beyond the scientific community and there is a need for effective communication to audiences with varying scientific backgrounds. I realized my work with the RAP was unique to make radon relevant to people in my community.
Reaching the mid-point of my lab exposure at Duke, I was comfortable standing in a real-live laboratory where undergraduate and graduate students were investigating environmental toxicity. I learned lab techniques of pipetting, centrifuging, embryo separation, fish development, and sediment sampling. Lunchtime was my favorite because one of the grad students would informally present on a topic to educate the rest. And then it was my turn. On June 6, 2014, I presented my work with the Radon Awareness Project. Facing allergies and butterflies in my stomach, the talk went smoothly. There was a good discussion of environmental health challenges in our respective states.
Dr. Richard DiGiulio's lab, known for its Superfund site research, is filled with projects studying the toxicity of fish. Meeting Rich (Dr. DiGiulio) was like being with an old friend as he is funny and comfortable to be around. Rich fosters an atmosphere of an 'environmental family' with kind and patient grad students. Their relaxed style made it conducive to learn lab skills and integrate my knowledge about environmental health.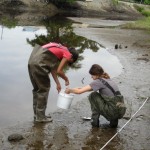 The highlight of my lab program was a trip to the Elizabeth River in Virginia led by Savannah Volkoff of Dr. DiGiulio's lab. We set off in the wee hours of the morning and made four stops for sediment collection in the Elizabeth River. We also collected mummichog fish to study the effects of toxic wastes of wood preservative, pollution, and other wastes that are affecting marine life. Savannah and I sloshed through the muck with waders and as messy as it was, sediment collection was my idea of working "in the field."
Next, I toured the lab of Dr. Edward Levin and learned about neurobehavioral aspects of environmental exposure. Dr. Levin has a super neat lab in downtown Durham in a remodeled car repair shop. Postdoc and graduate student, Dr. Jordan Bailey and Anthony Oliveri, toured me around the labs where Dr. Levin studies the effects of addictive substances, such as tobacco, using rat models.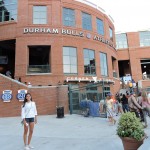 Besides working in a lab, my visit to Duke was fun! There were several entertaining activities including a tour of historic downtown Durham, attending a Durham Bulls game, eating barbecue with a distinctive North Carolina taste, and sampling international cuisines of Germany, France and Spain. I can't forget the ice cream at The Parlour and delectable cupcakes at The Cupcake Bar. The tour of Duke's campus was gorgeous with the impressive Duke Chapel, basketball stadium, and the Duke Gardens.
My time with the Superfund Research Center at Duke helped me to connect the dots of how the findings from basic lab research on environmental health ties into community outreach and public education. It brought relevance to my Radon Awareness Project and an invaluable perspective for environmental studies in my future.
I am grateful to Savannah Volkoff, Eve Marion, and Dr. Richard Di Giulio for organizing a truly memorable lab program at Duke University.
-Christina Bear
Golden, Colorado