The Duke University Chapter of the American Fisheries Society 2016-2017
Our main focus is highlighting fisheries research and management from many perspectives- from the seafood industry to recreational fishers, scientists, fisheries managers, entrepreneurs, and activists. We hope that by taking this approach, DukeFish and its members will be able to gain not only a better understanding of fisheries science, but also a broader knowledge of the multifaceted issues that can arise in fisheries management and a familiarity of what is going on out on the water and on our coasts.
Ocean Awareness Week Shark Seminar with Dr. David Shiffman
March 28th, 5:30pm- 7pm
DUML location: Repass Lecture Hall
Durham location: LSRC A211
A special video-seminar on shark ecology and conservation, social media, and science communication with Dr. David Shiffman in honor of Ocean Awareness Week! Learn more about Dr. Shiffman, a Duke alum, here, and his Twitter page, WhySharksMatter.
Dr. Shiffman recently completed his PhD. at the University of Miami's Abess Center for Ecosystem Science and Policy, where he studied shark biology and conservation under Dr. Neil Hammerschlag. Dr. Shiffman is headed to Simon Fraser University in Vancouver, BC where he will be focusing on assessing the sustainability of Canadian shark fisheries as a Liber Ero Postdoctoral Research Fellow .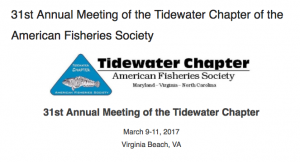 Year-round: Walking Fish Community Supported Fishery
In 2009, a group of graduate students at Duke University's Nicholas School of the Environment developed Walking Fish in partnership with a number of North Carolina-based for-profit and non-profit organizations. Every Thursday, fresh, locally-harvested NC seafood is brought to the Triangle area from Beaufort. In Durham, members of the community who have pre-payed for a seafood share pick up their share in the Duke Gardens parking lot. Our volunteers from DukeFish interact with customers and help with the distribution of shares every week. The goals of this program are to foster economic opportunities, cultivate healthy communities, and encourage environmental stewardship. It has been a great way for our volunteers to interact with fishermen, learn more about fisheries, and promote sustainable fisheries within our community.
March: Ocean Awareness Week, Red Gold Film Screening
In honor of Ocean Awareness Week DukeFish held a film screening of the documentary Red Gold, which highlights the issues surrounding the proposal of Pebble Mine and the implications for the world's most prolific sockeye salmon fisheries, in Bristol Bay, Alaska. After the film, students engaged in an informal discussion about some of the recent updates surrounding the Pebble Mine proposal since the documentary came out in 2008.
April: Earth Day Fish Prints
Every year, the Duke University Nicholas School of the Environment hosts an Earth Day celebration where DukeFish puts on some sort of fish-related event. This year, we chose to make traditional fish prints using a couple of extra fish from Walking Fish and cloth. This event was a total hit, despite the downpour! We had a huge crowd of people surrounding our table, patiently awaiting their turn to make their own fish print or t-shirt. Many people were nervous about touching a real fish for their first time, but we exposed them to what kind of fish they were making a print of, and informed them of our partnership with Walking Fish. The pictures speak for themselves!
September: The North Carolina Annual Seafood Festival
First, DukeFish invited Bill from FishTowne, a local seafood business, to come speak about his experience helping develop a CSF (Walking Fish) as well as answering questions about the local shrimp DukeFish sold in our shrimp tacos for the Annual North Carolina Seafood Festival.
Seafood Festival was a huge success; our famous local shrimp tacos hit the spot. After we braved it through a stormy, wet Friday (during which our coolers were afloat in the tent), eager festival-goers came out by the bunches on Saturday and Sunday. Consumers were thrilled with the delicious flavors of our grilled channel-net and skimmer trawl-caught shrimp seasoned with our homemade spice blend, chopped purple and green cabbage and carrot slaw, and drizzled with our special homemade chipotle crema sauce. Our unbeatable tacos drew crowds into the stand, where DukeFish was able to reach out to many consumers about the importance of supporting local fishermen, learning more about our food systems, and why it is important to ask questions about where our seafood comes from and how it is caught. Several consumers came by just to check out our educational materials or to pick up Seafood Watch cards, and several of our customers were so pleased with our tacos that they started cheering on other potential customers to come give them a try! It was not uncommon to hear positive feedback such as, "this is the best shrimp taco I've ever had"! We had some friendly competition with the booth next to us, and the fireworks on Saturday night just added to the fun.
Many folks from the Duke University Marine Lab came by to visit; thank you to all faculty and staff, their families, and students who came to support our mission and work! Sustainable seafood lovers from the Division of Marine Fisheries also stopped by to show their support and grab their share of tacos. We were in the local newspaper, and had Festival Director and NOAA employee Chris Smith come by with his family and take a photo with us as well!
We were also able to keep fellow DukeFish lovers and taco eaters pleased by exchanging a new DukeFish t-shirt or slap-on koozie for a suggested donation. We would like to thank everyone who helped us out with this fabulous event. All of the hard work was well worth it!
October: Dr. Andre Boustany, Management & Conservation of Bluefin Tunas
Later this semester, DukeFish organized a talk by Dr. Andre Boustany, Research Scientist and Senior Nippon Foundation-Nereus Fellow in Dr. Patrick Halpin's Marine Geospatial Ecology Lab at Duke University. Dr. Boustany's talk was titled, "Looking for a Way Forward on the Management and Conservation of Bluefin Tunas". Atlantic, Southern and Pacific bluefin tunas share similar ecological and life history traits, which affect their susceptibility to exploitation. The current management status of the three species vary, in both current population size and trajectory. This talk examined how the biology of bluefin tunas impacts their sensitivity to overfishing, and how institutional and organizational differences in the international bodies that oversee bluefin tuna management influence the ability to positively impact conservation. We looked at the history of bluefin tuna management at the International Commission of the Conservation of Atlantic Tunas (ICCAT, the international body responsible for the management of Atlantic bluefin tuna) and the Commission for the Conservation for Southern Bluefin Tuna (CCSBT, the management body responsible for southern bluefin tuna), and how the decades of failures and successes under those bodies can inform strategies to positively impact Pacific bluefin tuna conservation.
November: Net Effect Film Screening & Discussion
In November, DukeFish hosted a documentary showing of the WRAL production Net Effect, followed by a discussion with local recreational fishermen, guides, conservation NGO representatives, and representatives of commercial fishing interests. The documentary explored the complexities of fisheries management and the tensions between recreational and commercial fishermen in North Carolina. The film examined the recreational claim that commercial practices are having devastating effects on fish stocks and depleting a common resource. After the film, members heard from both commercial and recreational fishermen in a question and answer session. Members were able to witness tensions between the parties first hand and understand how policies and management can affect resource users on a personal level. This was an incredibly valuable experience exposing the complexities of fisheries management to our members.
December: NC State's Fish Barn
DukeFish took a trip out to North Carolina State's Fish Barn outside Raleigh in early December. First, we took a tour of their greenhouse aquaponics facility where they grow lettuce and herbs with tilapia. We learned about the bio-filtration system and their secret to maximizing plant and fish production: a decoupled system which allows the pH of the water to differ for the plant side and the fish side. Though the Fish Barn exists for research purposes, we learned that species like tilapia have low commercial value and the lettuce drives the profitability of these types of operations, if there are profits left! Next, we took a tour of their facilities where they rear flounder and striped bass, species that should command a higher value on the market but are slightly more difficult to rear. To induce spawning more than once a year, the managers at the Fish Barn manipulate the light in the room, since spawning is responsive to changes in photoperiod. We talked a lot about feed and disease control as well. Disease spreads fast in these types of systems and it's very difficult to prevent. Overall, a successful and highly educational visit that left us with an appreciation for the difficulty of raising aquatic species indoors.
This spring, we look forward to more speakers, and possibly a field trip, voting on new leadership, and our annual Ocean Awareness Week, and Earth Day celebrations! Please check our upcoming events page for more information. We are looking forward to all of this, and we welcome you to join us!
AFS Tidewater Chapter Meeting

– March 5-7, 2015

The American Fisheries Society Tidewater Chapter Annual Meeting is March 5-7, 2015 at the North Carolina Pine Knoll Shores Aquarium (only a 20 minute drive from the Duke University Marine Lab). Registration is now open. If you are interested in presenting a poster or talk, you can submit abstracts during the registration process at the following link.
---
Ocean Awareness Week – April 6th -April 10th, 2015
DukeFish will be collaborating again this year with the Ocean Policy Working Group (OPWG), the Student Association for Wetland Scientists, and The Coastal Society to make the 2nd annual Ocean Awareness Week a possibility. Events will run from Monday through Friday, culminating with the OPWG Ocean Noise and Offshore Energy Exploration & Development Symposium.
---
Crystal Coast Ecotours Fishing Trips

– April 11th and May 2nd, 2015

DukeFish will be hosting two inshore fishing trips late in the semester through Crystal Coast Ecotours for active DukeFish members. The first trip will take place on April 11th and the second on May 2nd. Both trips will be half day trips and target species will include bluefish, black drum, speckled trout, Spanish mackerel, and more!

Check back soon for an update on how to sign up!
Author Paul Greenberg Public Talk
Paul Greenberg is the author of the James Beard Award winning New York Times bestseller Four Fish and a regular contributor to The New York Times. He has also written for National Geographic Magazine, GQ, The Times (of London), Vogue, and lectures on seafood and the environment around the world. He is currently a fellow with The Safina Center and a Pew Fellow in Marine Conservation. His next book American Catch, the story of how we lost and how we might regain American local seafood, was published by The Penguin Press in June of 2014. For more information on Paul Greenberg, please visit http://www.prhspeakers.com/.
Mr. Greenberg visited us on March 2nd, 2015 for a full day of events! He participated in a book discussion with students and faculty members early in the day before his 250-person public talk in the evening.
Just before the talk began, Watt's Grocery hosted a seafood reception featuring delicious local clams and jumping mullet.
Carteret County fisherman Chris McCaffity opened the larger event with a short talk on North Carolina fisheries and a short video about Walking Fish Community Supported Fishery, of which he is a member. After a quick Q & A, Dr. Xavier Basurto introduced Mr. Greenberg. We thoroughly enjoyed hosting Mr. Greenberg to raise awareness about sustainable seafood and the American seafood industry in general. He spoke about Eastern oysters, Gulf of Mexico shrimp, and sockeye salmon – the focal species of his most recent novel, American Catch. Audience members were captivated by his talk and were willing to walk across campus in the rain to continue listening to him speak in a new venue after the fire alarm went off in the original theater! Participants stuck around afterwards to ask questions, buy books, and have them signed by our esteemed guest.
Event Photos (Click on any photo to see an enlarged version)
Thank you to the Ferguson Family, the Duke University Nicholas School Dean's Office, the NC State Student Fisheries Society, the Duke Office of Sustainability, North Carolina Sea Grant, Walking Fish CSF, and Locals Seafood for helping us to make this event a reality!
---
28th Annual North Carolina Seafood Festival
The 2014 NC Seafood Festival was a huge success! We sold over 1,000 tacos containing Spanish mackerel caught in Core Sound and shrimp harvested in Pamlico Sound by Walking Fish Cooperative fishermen. Over 25 Duke Students volunteered over the weekend to sell local fish tacos, as well as to promote Walking Fish CSF and provide community members with free sustainable seafood information and recipes. We raised over $1400 in profits in just three days thanks to all of our amazing volunteers! If you have any suggestions for future events or how DukeFish should spend our profits, please contact us.
Click on any of the photos below to see the full size versions!