Author Paul Greenberg Public Talk
Paul Greenberg is the author of the James Beard Award winning New York Times bestseller Four Fish and a regular contributor to The New York Times. He has also written for National Geographic Magazine, GQ, The Times (of London), Vogue, and lectures on seafood and the environment around the world. He is currently a fellow with The Safina Center and a Pew Fellow in Marine Conservation. His next book American Catch, the story of how we lost and how we might regain American local seafood, was published by The Penguin Press in June of 2014. For more information on Paul Greenberg, please visit http://www.prhspeakers.com/.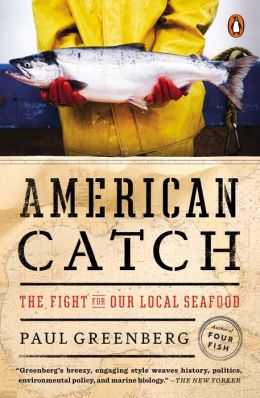 Mr. Greenberg visited us on March 2nd, 2015 for a full day of events! He participated in a book discussion with students and faculty members early in the day before his 250-person public talk in the evening.
Just before the talk began, Watt's Grocery hosted a seafood reception featuring delicious local clams and jumping mullet.
Carteret County fisherman Chris McCaffity opened the larger event with a short talk on North Carolina fisheries and a short video about Walking Fish Community Supported Fishery, of which he is a member. After a quick Q & A, Dr. Xavier Basurto introduced Mr. Greenberg. We thoroughly enjoyed hosting  Mr. Greenberg to raise awareness about sustainable seafood and the American seafood industry in general. He spoke about Eastern oysters, Gulf of Mexico shrimp, and sockeye salmon – the focal species of his most recent novel, American Catch. Audience members were captivated by  his talk and were willing to walk across campus in the rain to continue listening to him speak in a new venue after the fire alarm went off in the original theater! Participants stuck around afterwards to ask questions, buy books, and have them signed by our esteemed guest.
Event Photos (Click on any photo to see an enlarged version)
Thank you to the Ferguson Family, the Duke University Nicholas School Dean's Office, the NC State Student Fisheries Society, the Duke Office of Sustainability, North Carolina Sea Grant, Walking Fish CSF, and Locals Seafood for helping us to make this event a reality!
---
28th Annual North Carolina Seafood Festival
The 2014 NC Seafood Festival was a huge success! We sold over 1,000 tacos containing Spanish mackerel caught in Core Sound and shrimp harvested in Pamlico Sound by Walking Fish Cooperative fishermen. Over 25 Duke Students volunteered over the weekend to sell local fish tacos, as well as to promote Walking Fish CSF and provide community members with free sustainable seafood information and recipes. We raised over $1400 in profits in just three days thanks to all of our amazing volunteers! If you have any suggestions for future events or how DukeFish should spend our profits, please contact us.
Click on any of the photos below to see the full size versions!