DEI Implementation Plan & Anti-Racism Plan
The Nicholas School has developed two implementation major plans to create a more diverse, inclusive, and equitable school. These implementation plans extend the work of a number of DEI strategic plans (see Background Information below), to provide concrete activities to advance DEI in the Nicholas School.
The DEI Implementation Plan outlines DEI goals, objectives, and activities (i.e., tactics) primarily derived from past NSOE DEI reports and strategic plans. Some activities were added based on the Duke University Faculty Climate Workshop offered in August 2021.
The Nicholas School Anti-Racism Plan is a vision of racial equity born from a petition from a group of students, staff, faculty, and alumni received by the Dean in early summer 2020. The petition outlined clear steps the Nicholas School could take to address systemic racism within our school. The concrete action items from the anti-racism plan have also been incorporated into the DEI Implementation Plan.
To learn more about how these plans were developed, please see Background Information below.
Wondering what NSOE did to advance DEI in the 2021-22 Academic Year? Please visit A Year in Review.
DEI Implementation Plan and 2022 Evaluation
Implementation activities for each set of NSOE DEI goals and objectives are evaluated annually based on a 3 point scale: Transforming (3 pts), Developing (2 pts), Emerging (1 pts), or No effort (0 pts).
This framework has been adapted from the work of outdoor inclusion expert, Karlisa Callwood, PhD of KAC Consulting, LLC presented at the NAI 2021 Conference. In this, Transforming means that the activity is part of the culture of the school and is regularly practiced. Developing means that some aspect(s) are either practiced regularly, but the activity hasn't been fully integrated into the practices of the school or the activity has only recently been incorporated. Emerging means that discussions are taking place about prioritizing or initiating the activity and that there is general support for doing so.
The result of the Associate Dean of DEI 2021 assessment are below. The highest scores (in the upper Emerging range, >1.5 out of 3) were given for the Nicholas School's two inclusion objectives and second diversity objective (2b, see below). The lowest overall scores (in the lower Emerging range between 1 and 1.5 out of 3) were given for the Nicholas School's first diversity objective (2a, see below).
Below you will find summary statistics indicating change in rank since the DEI Implementation Plan went into effect in Fall 2021, along with the 2022 evaluation. For the 2021-22 Evaluation, please visit the 2021 DEI Implementation Evaluation page.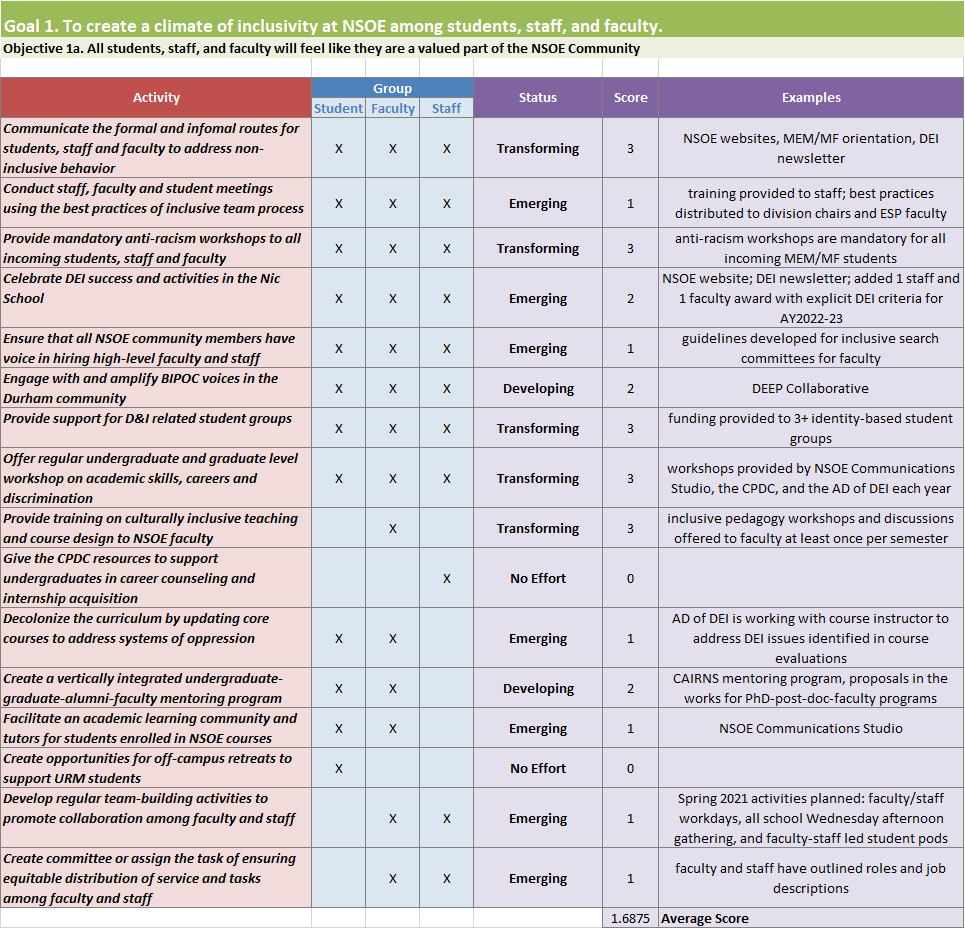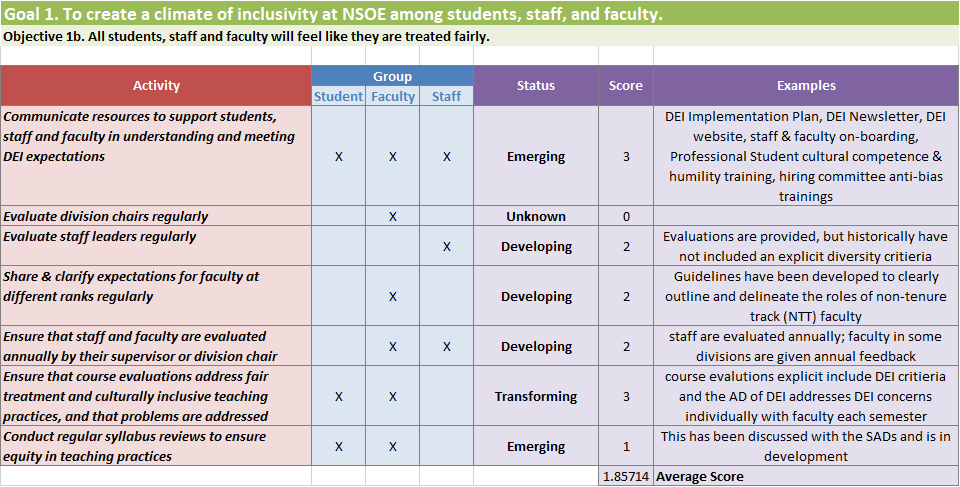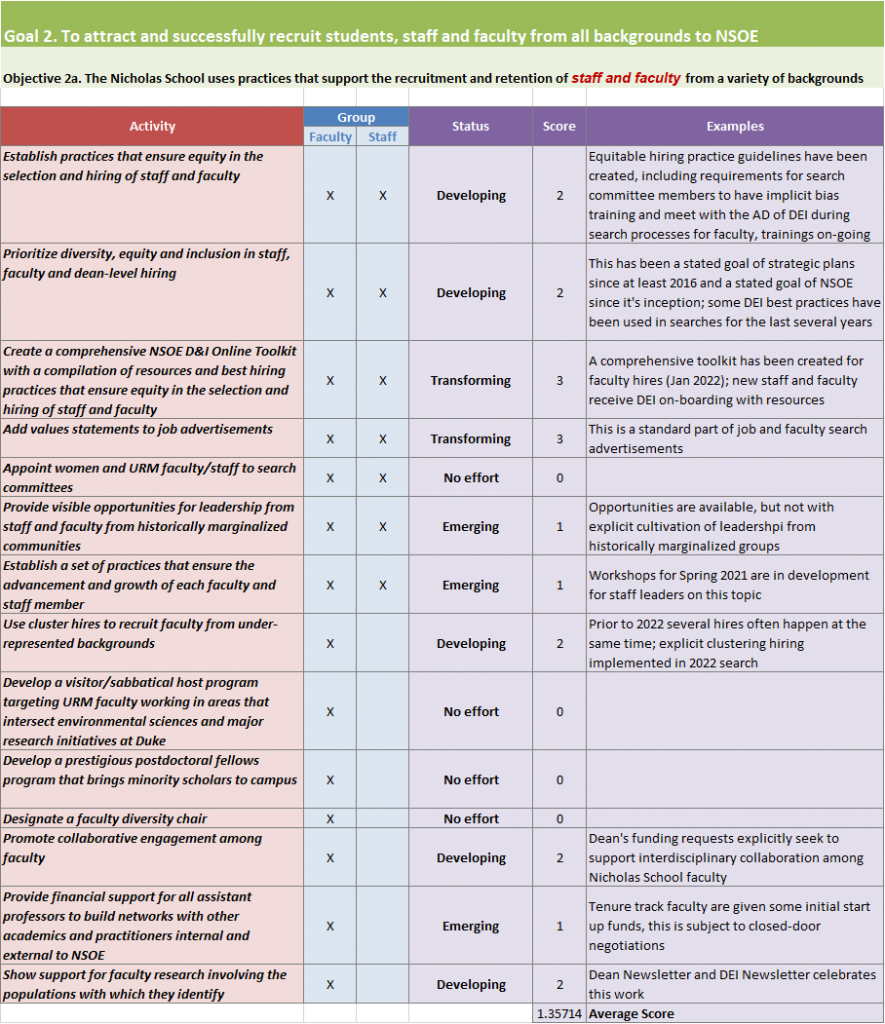 Are you interested in learning about NSOE's pay equity and re-leveling efforts for faculty and staff? If so, please visit our Salary Equity & Leveling page.
Anti-Racism Plan 2021-22 Update
In September 2021, Dean Toddi Steelman provided an update on the progress of the Nicholas School's Anti-Racism Plan. The full update can be found here. Below is a summary of the Nicholas School's progress, extracted from that update:
"Notable accomplishments include completing or making substantial progress on many of the items we committed to in our petition response (see below for details). For example, the Nicholas School offered and created anti-racist and equity-focused educational and training opportunities, including Faculty, Staff, and Student Racial Equity Learning Arc cohorts, Racial Caucuses, a Summer Community Reading Group, Title IX Training, Orientation Presentations and more. The Nicholas School also crafted a clear reporting structure for students, staff, and faculty to voice concerns and complaints, which now resides in a permanent home on the graduate school website. The School has also initiated curricular change to decolonize coursework through a series of workshops and JEDI curriculum support for faculty. Other efforts can be seen below.
Additional important changes have taken place. For example, Dr. Nicki Cagle was appointed Associate Dean of DEI for the Nicholas School. This position will support NSOE faculty, staff, and students in developing a community of inclusion, recognizing that doing so is a team effort. In particular, this position will help:
move NSOE DEI initiatives from the planning phase to the implementation phase,
increase the diversity of students, staff, and faculty from under-represented backgrounds,
infuse the core values of DEI into education, research, and practice at NSOE,
steward ongoing and novel efforts in community building and DEI,
maintain and share expertise on DEI best practices; and
benchmark the outcomes of DEI initiatives within the NSOE.
This new position is consistent with recommendations from NSOE strategic plans, the 2020 NSOE Actions for Racial Equity Student Petition, Faculty Council, and Duke University's Anti-Racism Plan School-level review. The new Associate Dean of DEI also will sit on the Executive Leadership Committee to ensure we fully consider DEI aspects in all we do.
Additional successes include:
Duke University Marine Lab DE&I Committee formed
The diversity profile of our faculty has started to change some for the better (Appendix 1)
NSOE Draft DEI Implementation Plan. The AD of DEI is currently working on a draft DEI implementation plan for the school. This will be reviewed by students, staff, and faculty through an inclusive process using a combination of focus groups (Implementation Plan, above)
DEI Student Advisory Committee. The AD of DEI has formed a DEI student advisory committee to guide efforts around the DEI Implementation Plan. This newly form group supplements the guidance provided to the AD of DEI by the Actionators and the new Duke University Marine Lab DE&I committee.
In addition, I recognize we have additional work to do related to creating a more inclusive environment in NSOE among our students, staff, and faculty and also to using practices that support the recruitment and retention of staff and faculty from a variety of backgrounds. Notably, the diversity among our staff trended downwards this past year for a second year in a row (Appendix 1).
To address these weaknesses and our need to forge a more inclusive and diverse school, we have added new goals to our DEI Implementation plan, which is currently in draft form (Implementation Plan, above). We view this petition response and all of our DEI and anti-racism work as a work in progress and look forward to the continued investment in these worthy activities over the coming year."
– NSOE Anti-Racism Plan Update 9.30.21
Background Information on DEI Plan Development
Since the Nicholas School was founded in 1991, it has worked toward greater diversity, equity, and inclusion, but progress hasn't always been fast. From 1991 through the early 2000s, NSOE began efforts to increase the representation of women. In the early 2010s, NSOE launched a second diversity effort to develop pathway programs for and recruit people from groups that have been under-represented in the school, including women; people identifying as Black, Indigenous, and Latinx; people from low socioeconomic status backgrounds; and people from diverse geographic areas.
During these efforts, inclusive processes were used to develop several strategic plans clarifying DEI goals, objectives, and associated activities for various Nicholas School sub-communities. These processes have included:
Surveys, interviews, and focus groups with students (undergraduate, professional, and doctoral), staff, faculty, and community members;
Research in the literature;
Use of proposals and petitions from student groups, as well as staff and faculty groups;
Results & suggestions from a 4-part 'Teaching and Leading for Equity' workshop at DUML in Spring 2021;
Interviews with DEI staff and department leaders at peer institutions;
SWOT analyses; and
Expert guidance (e.g., from diversity in STEM leaders, educators, DEI experts, consultants, etc.).
In 2017 NSOE identified six strategic focus areas: Diversity & Inclusion, Undergraduate Programs, Professional Master's Programs, PhD Programs, Research, and Faculty Structure (NSOE 2017). The Diversity & Inclusion focus was informed by several prior reports, including:
Professional Development Program for Diversity in Conservation and Community Proposal (2013) from Glenda Lee to create a DEI professional development program for NSOE graduate students. It was converted to a course taught by Liz Shapiro-Garza and Melanie Allen in Spring 2016.
Academic Council Diversity Task Force School Report Nicholas School of the Environment (2015) included data and an assessment of NSOE faculty diversity.
NSOE D&I Committee Pipeline Subcommittee Report (2015) from Christine Erlien and Glenda Lee with recommendations for increasing student diversity in NSOE at PhD, MEM, and undergraduate level.
Diversity & Inclusion Strategic Planning Committee Report (2016) led by Meg Mullin and Gaby Katul includes an overview of D&I condition in NSOE faculty, staff, and students, recommendations, and metrics for evaluation.
Nicholas School of the Environment Targeted Student Diversity, Equity, and Inclusion Program Proposal (2016) completed by Liz Shapiro-Garza, with outside consultant (Melanie Allen) and MEM student (Justin Lindenberg) in fall 2016 on proposals for actions that would best support DEI at NSOE, with a focus on the student experience.
Since 2017, NSOE staff, faculty and students have put together several additional strategic plans and proposals related to DEI; these include:
Proposal for NSOE Regular-Rank Faculty Position in Environmental Justice (2017) – Proposal for a Faculty hire in EJ at the Nicholas School submitted by multiple faculty members.
NSOE K-12 Diversity Pathway Programs Strategic Planning Report (2018) – Strategic Planning report on K-12 Diversity Pathway Programs requested by interim-Dean Jeff Vincent, written by Nicolette Cagle (Feb 2018). Includes NSOE interview-based SWOT analysis, summary of Duke-Durham community interviews, PESTLE analysis, Diversity and Equity in Environmental Programs (DEEP) data, and major recommendations for NSOE with associated tactics.
Environmental Justice Interest Survey Results (2019) – A summary of a survey that a group of MEM students conducted to judge student interest in greater EJ content in the curriculum.
NSOE Undergraduate Diversity Pathways Strategic Planning Report (2019) – Strategic Planning report on NSOE Undergraduate Diversity needs requested by Dean Toddi Steelman, written by Nicolette Cagle, Lauren Hadley, and Nadia Thompson. Includes DEI literature review including national data and takeaways from the DEI literature in E-STEM fields, key data findings from Duke student surveys including focus groups, SWOT analysis, PESTLE analysis, and major recommendations for NSOE with associated tactics.
EJ Instructor NSOE Call for Applications (2019) – Call for applications for EJ instructor position. Sherri White-Williamson was selected for the position at that time.
NSOE Actions for Racial Equity Petition (2020) – Petition sent by the NSOE4BlackLivesMatter group of students and alumni.
The work outlined above has guided the development of the Nicholas School's DEI Implementation Plan and Anti-Racism Plan.
More Resources on Anti-Racism
Find out how the University of Minnesota Law School is advancing racial equity through a memorial scholarship in honor of George Floyd [Chronicle of Higher Education]. The scholarship serves two purposes: to memorialize Floyd and "diversify the legal population which has historically been underrepresented in terms of minorities."
Explore the Framework for Advancing Anti-Racism Strategy on Campus to learn how 10 priority areas can be leveraged to improve conditions for Black, Indigenous, and other students, faculty, and staff of color. These areas include institutional structure, resource allocation, curriculum and pedagogy, campus climate, and admissions and access. The Framework reminds us that "higher-education systems are a complex web of practices, policies, and procedures steeped in white normativity."
See Moving from Words to Actions: the Influence of Racial Justice Statements on Campus Equity Efforts, a NASPA (Student Affairs Administrators in Higher Education) report, which analyzed racial justice statements made in the spring and summer of 2020. The report includes a discussion of statement logistics and substance, immediate efforts, areas for change, implementation considerations, and anticipated impact of actions. The report aims to "help institutions reflect on processes and promises behind issuing racial justice statements and types of follow-up actions to transform words into meaningful, sustained change."