To ensure accountability, the Nicholas School hosts regular DEI Accountability Meetings for students, staff, and faculty to review recent DEI efforts, make suggestions for improvements, and ask questions. To ensure transparency, the Nicholas School is committed to sharing our DEI evaluations and metrics. Additional evaluation and information on progress made towards our DEI objectives can be found on our Implementation page.
Accountability Meetings
The Nicholas School uses regular Accountability meetings, open to any student, staff, or faculty member to guide our path towards increased inclusivity, diversity, and racial equity.
Before each meeting, the Dean and Associate Dean of DEI release an update on recent activities that: 1) increase our Knowledge, 2) change our Behaviors, and 3) recast our Identity. These are interdependent. Without a sustained effort to continue to educate ourselves and change our behaviors, our School cannot achieve the diverse identity and perspectives we seek to be truly excellent as the Nicholas School of the Environment.
During the meeting, community members reflect on key question in small groups and then offer feedback and questions to the whole group, including the Dean and Associate Dean of DEI.
The Accountability Meeting updates can be found here:
February 15, 2022 (in this meeting we reviewed the January 24, 2022 update)
January 24, 2022 (in this meeting we reviewed our DEI data)
October 30, 2020 (coming soon)
October 2, 2020 (coming soon)
Available Data
From the 2021 Anti-Racism Plan: A Response to the Racial Inequity Petition (Appendix I) and Duke University's 2021 DEI Climate Survey: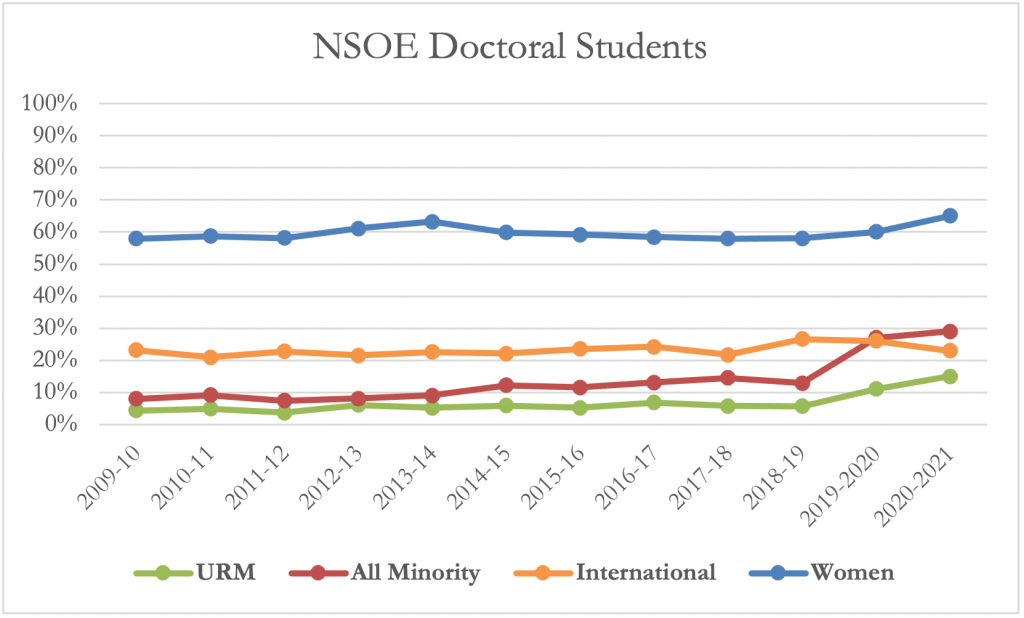 The 2021 DEI Climate Survey identified the following areas of concern:
Racial and ethnic diversity of faculty and divisional leadership; fairness and transparency of the hiring process
Communication of criteria for advancement and promotion
Voice and expressing concerns
Performance feedback
Opportunities for advancement
Climate for women and community members from under-represented minority groups (e.g., microaggressions)
Evaluations & Metrics of Success
The Nicholas School is starting to collect long-term data to evaluate its progress towards it's DEI goals, objectives, and activities. Please visit our Implementation page to see our annual evaluation of DEI Implementation activities.