What is the CBEM Certificate?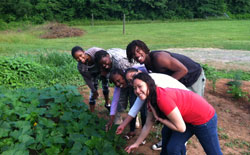 The Community-Based Environmental Management (CBEM) certificate program trains graduate students at the Nicholas School of the Environment to become highly effective managers of CBEM programs and facilitators for communities wishing to improve the management of their own environment.
Find out more »
Our Students
Meg Perry

My experiences in the CBEM program have confirmed my belief that more inclusive processes produce more effective environmental outcomes in the long run. Expanding the meaningful participation of communities in environmental management is definitely challenging enough to make up a lifetime of interesting work!

Read More »

Eric Hansen

I particularly enjoyed the opportunity to work on client projects as a part of the Certificate program. I have gotten to know the Durham community, applied the tools and theory from class, and made a real difference in the operations of a small organization.

Read More »

Sara Overton

The courses taken for the CBEM Certificate are incredibly useful and diverse. My interests are in face-to-face interactions for data gathering – interests I honed into professional abilities thorough courses like Randy Kramer's Surveys and Meg McKean's Collective Action.

Read More »
Featured Partner
At Briggs Avenue Community Garden there is a Community Garden Coordinator that works with community members to establish a garden and provide ongoing support and education. This garden typically has individual plots that are rented to families for a small fee. Any food that a family grows in their plot is theirs to eat, preserve, donate or share.
Meet More of Our Partners »
Student Activity
Fall into Community
Shannon Switzer
October 16, 2013
Fall is here with its smell of pumpkin-spiced lattes and the sound of crunchy leaves rustling. And though I was in denial for weeks, I've finally given up on wearing summer dresses to school, and decided it's time to embrace the changing season.
Read More »