Piedmont and Coastal Plain
Southeastern US sites on the Piedmont and coastal plain extend from the southern-most DSNY in Florida and western-most (KINF) in Louisiana up to the central Piedmont of North Carolina (DUKE).  Sites in the Appalachians are listed in a separate page.  Flatwoods longleaf pine stands on wet Coastal Plain sands include DSNY, CROA, and GRSW.  OSBS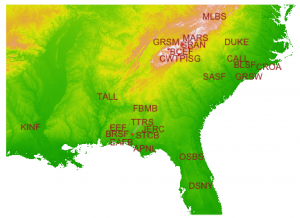 and CALL are sandhills sites. Piedmont sites include DUKE and TALL.   
There is a profound seasonality gradient within the region.  Central Florida (OSBS, DSNY) has highly seasonal precipitation, with almost daily afternoon convection storms in summer months, leading to large moisture surpluses.  North and west of central Florida summer deficits are common. Further north on the the Piedmont precipitation is evenly distributed throughout the year but highly variable from year to year. 
The region includes the long-term network of USFS longleaf pine observations from Dale Brockway, Don Bragg, and Qinfeng Guo (Guo et al. 2016). NEON sites in the SE that are part of this study include DSNY, OSBS, and TALL.
Monthly precipitation and potential evapotranspiration
Southeastern sites assimilated thus far include the following:
USFS longleaf network
Callaway (CALL)
Southern Appalachians
Mountain sites in GRSM extend from mixed hardwoods to highest elevation spruce-fir stands.  At CWT highest elevation sites reach northern hardwoods. Lowest elevation sites at GRSM and CWT both extend to mixed Piedmont hardwoods.  Still lower elevations support elements of the southern Piedmont and north temperate forests at MARS and SCBI.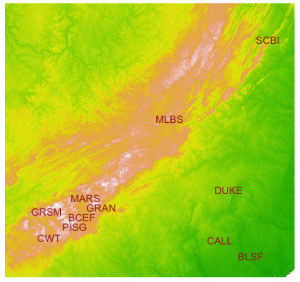 Appalachian climates are highly variable in space and time.   High elevation sites typically have year-round moisture surpluses.   At lower elevations summer deficits are common.
Monthly precipitation and potential evapotranspiration with 95% coverage since 1950
Sites assimilated thus far include:
Bent Creek (BCEF), Grandfather Mtn (GRAN), and Pisgah (PISG)