One Network. 160,000 alumni. Infinite possibilities.
Graduating from Duke means joining one of the most powerful alumni networks in the world, a global community of 160,000 fellow Dukies who are eager to help you find professional opportunities, settle into new communities, and stay connected to Duke. DAA's new website, alumni.duke.edu, is the key to accessing all the benefits of being a Duke alum. In the weeks after graduation, new grads will be invited to log in, update their profiles and start connecting with alumni and groups around the world. Be sure to update your address so you get information about the Duke alumni chapter where you live.
---
Duke Alumni Send-off: Alumni Card & Gift Distribution
As you transition to being a Duke University alumni, there are some things you need to know. Be sure to visit the University Alumni Benefits website for complete details!
May 2017 grads,  please stop by the Penn Pavilion to collect your alumni card and gift from Duke Alumni Association. The Blue Devil will be on hand for pictures, and representatives from DAA will be there to answer any questions you have about being a Duke alum and being #ForeverDuke! 
Date: Thursday, May 10
Time: 1:30 – 5:30pm
Location: Penn Pavilion
and
Date: Friday, May 11
Time: 10:00am – 2:00pm
Location: Penn Pavilion
>> More info HERE – Duke Alumni 2018 Commencement Events!
---
Nicholas School Office of Development & Alumni Relations (ODAR)
Graduation Gift to You!
When: Saturday, May 12, 11:00 am – 4:00 pm
Where:  Environment Hall, Wegner Art Gallery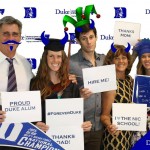 Photo Booth and Social Media Kiosk – Take fun, festive photos with family and friends and share immediately through Facebook, Twitter and/or Instagram (@DukeEnvironment, #DukeEnvironment and #NicAlumni)

Graduation Gift – Pick up your "Welcome to the Nicholas School Alumni Community" notebook made with recycled materials
---
Forever Duke Commencement Party
Celebrate your new status as a Duke alum with family, friends, and guests. The Forever Duke party features snacks, beverages and a DJ. The event is sponsored by DAA and Duke University Stores. 
Date: Saturday, May 12
Time: 8:00-11:00pm
Location: Blue Zone, IM2 [MAP]
All graduates are invited to bring their families and guests to celebrate their new status as Duke alumni. The party, in the first lot of the Blue Zone, will feature snacks, beverages and a DJ. The event is sponsored by the Duke Alumni Association and Duke University Stores. 
Weather: The event will not take place if weather is inclement. Tickets: Tickets are not required for this event.
>> More info HERE – Duke Alumni 2018 Commencement Events!
---
Duke Alumni Association Graduation Breakfast
Date: Sunday, May 13
Time: 7:30 – 9:00 a.m.
Location: Hall of Honor/Cameron Indoor Stadium
Please join us for our annual graduation breakfast hosted by Bob and Carol Shepard. A continental breakfast will be served to alumni and special guests who have children or grandchildren graduating (undergraduate and graduate). Staff interested in attending should RSVP to Charlotte Timberlake by May 2nd.
>> More info HERE – Duke Alumni 2017 Commencement Events!
---
Stay connected to Duke on Social Media
Facebook Group: Facebook

Twitter:

@DukeAlumni and @DukeAlumniVideo

Instagram:

@DukeAlumni
---
Nicholas School 

Career and Professional Development Center (CPDC)
Our dedication to your success does not end when you cross the stage at graduation. As alumni, you will always be a treasured part of our community!
Here are 8 ways to tap into our network and enhance your career: