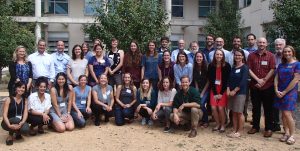 Faculty listed below are potential collaborators for students. Often, faculty are willing to take a student during a first-year rotation, have them join their lab and/or be a mentor or advisor. That said, NOT all below faculty will be willing or able, depending on teaching load, sabbatical, etc. As an interested or incoming student, please contact them to ask if they are working with new students in any capacity.
Michael Bergin, PhD (Civil and Environmental Engineering): General focus is on the influence of air pollution on both climate and human health.
Mark Borsuk, PhD (Civil and Environmental Engineering): Research concerns the development and application of mathematical models for integrating scientific information on natural, technical, and social systems.
Christopher Counter, PhD (Pharmacology & Cancer Biology): Studies processes of carcinogenesis, through which we can relate environmental toxicities to genetic alterations in cancer, which directly impacts environmental health.
Marc Deshusses, PhD (Civil and Environmental Engineering): Research interests are related to the design, analysis and application of remediation, waste to energy and decentralized sanitation process.
Gayathri Devi, PhD (Pathology): Studies dysregulation of the cell death pathway in anti-cancer therapy, and how environmental toxicants influence anti-cancer drug therapy.
Richard Di Giulio, PhD (Nicholas School of the Environment): Focuses on molecular and organismal responses of aquatic animals to environmental stressors, particularly contaminants. The laboratory is concerned with both basic studies of mechanisms of contaminant metabolism, adaptation and toxicity, and with the development of sensitive, mechanistically-based indices of exposure and toxicity that can be used in biomonitoring of free-living organisms. Additionally, through collaborations, I seek innovative approaches for elucidating linkages between human and ecological health. Current research activities are focused on the following three subjects: 1) the effects of PAHs on embryonic development, later life consequences, and adaptations in fish models, including mechanistic laboratory studies and field studies; 2) the effects of nanomaterials on vertebrate development, including interactions with other environmental variables such as UV radiation, organic matter, temperature and other contaminants; 3) the impacts of fossil fuel extraction, use and waste disposal on human and ecological health.
P. Lee Ferguson, PhD (joint Pratt School of Engineering and Nicholas Schools): Development of technologies for the trace detection of carbon-based nanomaterials and hydrophilic organic contaminants in environmental samples, and mechanisms of xenoestrogens toxicity.
Katherine Franz, PhD (Chemistry): Dr. Franz's lab develops small molecules that can correct metal imbalances including those caused by environmental exposures.
Claudia Gunsch, PhD (Civil and Environmental Engineering): Research focuses on characterizing and engineering environmental microbiomes.
Elizabeth Hauser, PhD (Medicine): Develops statistical methods for genetic and genomic models, and develops software for the application of those statistical methods to gene discovery in complex human traits contributing to cardiovascular disease and aging, including gene x environment interactions. Areas of application include studies of the interaction between genes and air pollution in cardiovascular disease.
Helen Hsu-Kim, PhD (Pratt School of Engineering): Studies the environmental geochemistry and microbial transformations of trace element pollutants such as mercury, zinc, selenium, and metal-based nanomaterials.
Dana Hunt, PhD (Duke Marine Lab): My research focus is on understanding the ecology of microbes through examination of their genes and lifestyles. Another area of active research is the response and adaptation of bacteria to emerging pollutants such as antibiotics and nanoparticles.
Sven-Eric Jordt, Ph.D. (Anesthesiology, Pharmacology & Cancer Biology): Investigates the mechanisms of environmental chemical irritation, chemical sensing and their contributions to inflammation, asthma and lung injury. The lab identified receptors for noxious chemical exposures in pain sensing neurons, the TRP ion channels, and develops countermeasures against the effects of chemical exposures. Toxicological studies focus on flavor chemicals in electronic cigarettes and their irritant and counterirritant effects.
Randall Kramer, PhD (Nicholas School of the Environment and Duke Global Health Institute): Focuses on the relationships between ecosystem health and human health, especially the control of malaria and other infectious diseases.
Cynthia Kuhn, PhD (Pharmacology & Cancer Biology): Studies monoamine-system neurotoxins including those which kill DA neurons, and recently gonadal steroid modulation of neuroinflammatory damage of DA neurons that is highly appropriate for the UPEH.
Edward Levin, PhD (Psychology and Neuroscience): Studies toxicological influences on learning and memory, utilizing both rodent and zebrafish models to study toxicant exposures, including insecticides and heavy metals.
H. Kim Lyerly, M.D. (Surgery/Immunology/Pathology): Dr. Lyerly is the George Barth Geller Professor of Research in Cancer at Duke, and has a research laboratory focusing on the immune system and human disease. He also conducts population-based research on the relationship between environmental factors and human health. Specifically, he directs the Environmental Health Scholars Program, which links environmental data with health outcomes data. This work is done as part of a unique interaction between investigators at the Nicholas School of the Environment and the School of Medicine.
Donald McDonnell, PhD (Pharmacology & Cancer Biology): Studies molecular mechanisms through which both therapeutic agents and endocrine disrupters modulate cell function.
Joel Meyer, PhD (Nicholas School of the Environment): Studies the toxicity and genotoxicity of environmental contaminants including polycyclic aromatic hydrocarbons and nanomaterials, with a particular focus on gene-environment interactions. For more detailed information, visit the Meyer lab website here!
Susan Murphy, PhD (Pathology; Obstetrics & Gynecology): Analyzes epigenetic changes that occur in response to environmental exposures; studies the role of epigenetics in human malignancies and investigates novel treatment strategies.
William Pan, PhD (Nicholas School of the Environment): Within the Global Health Institute focuses on the interface between human activities and the environment, especially the demographic, health, and environmental outcomes of these interactions.
Steven Patierno, PhD (Cancer Institute): Studies mechanisms of respiratory toxicity and carcinogenesis by toxic metals.
John Rawls, PhD (Department of Molecular Genetics and Microbiology): Studies how intestinal microbiota interact with host genome-encoded processes to impact vertebrate health and disease.
Daniel Richter, PhD (Nicholas School of the Environment): Studies soils, ecosystems, and the wider environment. Studies how humanity is transforming Earth's soils from natural to human-natural systems, specifically how land-uses alter soil processes and properties on different time scales.
Drew Shindell, PhD (Nicholas School of the Environment): Dr. Shindell is particularly interested in evaluation of how emissions to the atmosphere affect public health via air quality and climate change, and how these impacts can be integrated with other impacts of the activities generating emissions to inform policy decision.
Heather Stapleton, PhD (Nicholas School of the Environment): Investigates the sources, fate, transport and transformation of flame retardant contaminants in the environment, and mechanisms of thyroid system disruption.
Dennis Thiele, PhD (Pharmacology & Cancer Biology): The Thiele lab focuses on two areas of research. In one, we study how metals such a copper and the anti-cancer drug cisplatin exhibit toxicity through studies of their transport, intracellular trafficking, metal-responsive gene expression and detoxification mechanisms. Our studies encompass normal homeostatic controls and mechanisms involving fungal pathogenesis and cancer. We also investigate the role of the Heat Shock Transcription Factors (HSFs) in sensing and responding to environmental conditions (heat, chemicals) that cause protein misfolding and how HSFs function in human disease in cellular and mouse models.
Robert Tighe, MD (School of Medicine): The Tighe lab focuses on the underlying mechanisms of air pollution exposure and lung injury and repair. Using in vitro exposures to cell cultures and in vivo exposures to animals and humans, we explore how genetic susceptibility drives biologic responses to acute pollution exposures. Additionally, are interested in interactions between pulmonary macrophages and airway epithelial cells and how these interactions regulate air pollution responses.
Tuan Vo Dinh, PhD (Pratt School of Engineering): Develops nano-sensors, biosensors and biochips for the protection of the environment and the improvement of human health.
Mark Wiesner, PhD (Pratt School of Engineering): Studies mechanisms controlling the transport and fate of materials in the environment, approaches for quantifying the health risks associated with these materials, and technologies for water and wastewater treatment.
Tso-Pang Yao, PhD (Pharmacology and Cancer Biology): Studies the regulatory functions of protein acetylation in cell signaling and human disease.
Jim Zhang, PhD (Nicholas School of the Environment and Global Health Institute): Develops novel biomarkers of human exposure and health effects, assesses health and climate co-benefits of air pollution interventions, evaluates technologies and policies for reducing environmental pollution and disease burdens, and examines biological mechanisms underlying adverse effects of environmental exposure.