Avner Vengosh is a Professor of Geochemistry and Water Quality and chair of the Water and Air Resources program at the Nicholas School of Environment in Duke University. Dr. Vengosh also has a secondary appointment in the Department of Civil and Environmental Engineering at Duke University. He is an Associate Editor for the international journal Applied Geochemistry.
Dr. Vengosh research aims to integrate environmental geochemistry, advanced isotope geochemistry (boron, strontium, carbon, and radium isotopes), and environmental health (e.g., arsenic in toenails) in order to delineate the sources and pathways of contaminants in the environment and their possible impacts on human health. Currently Dr. Vengosh research is focused on three major themes:
(1)  Salinization of water resources and impacts on development and health. Current studies focused on shallow groundwater in the sub-Saharan basins of Morocco and coastal aquifer of the southeastern United States. Studies also include the geochemistry of "new water" generated by reverse osmosis desalination of seawater and saline groundwater.
(2)  The energy-water quality-health nexus that includes (i) studies on the impact of coal combustion products on the environment (e.g., the TVA coal ash spill in Tennessee, effluents discharge from coal ash ponds in North Carolina); (ii) the origin of contaminants associated with mountaintop mining in valley fill head waters in West Virginia; and (iii) the impact of deep shale gas drilling and hydraulic fracturing on the quality of shallow groundwater and surface water (methane and brine contamination from the Marcellus Shale, Pennsylvania).
(3)   The relationships between groundwater geochemistry, water quality, and human health in different aquifer systems, worldwide. Current studies including high arsenic drinking water in private wells from Union County, North Carolina; high fluoride and arsenic in groundwater from the Rift Valley in Ethiopia; high salinity, fluoride, and radium in groundwater in Morocco; and high radium in fossil groundwater in the Middle East. Studies include developing new diagnostic tools to evaluate their bioaccumulation in the local populations by measuring the contaminants in nails and conducting health surveys in exposed populations.
See full CV here:CV_Vengosh_July_2016
Current graduate students
Jennie Harkness (jennifer.harkness@duke.edu)
Jennie research focuses on the geochemical and isotopic characterization of wastewater from energy exploration and production (i.e. hydraulic fracturing, coal combustion, oil sand mining). She uses  distinct geochemical and isotopic fingerprints of these wastewaters to trace the source and migration of contaminated water in the environment. She is also interested in the source and distribution of emergent contaminants associated with energy exploration and production (i.e. halogens).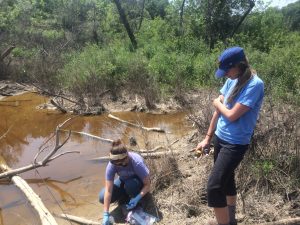 Nancy Lauer (nancy.lauer@duke.edu)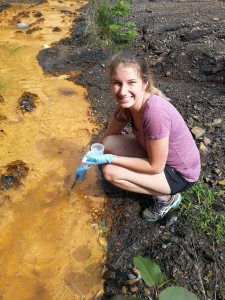 Nancy's research aims to understand radionuclides as both useful tracers and harmful contaminants.  She focuses primarily on TENORM (Ra-226, Ra-228, and Pb-210) resulting from coal combustion and hydraulic fracturing in order to (1) develop radioisotopic fingerprints for air, water, and soil pollution and (2) quantify the total radioactivity associated with these processes.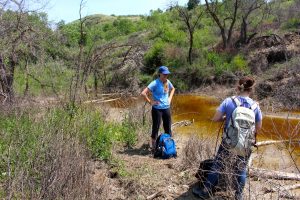 Andrew (AJ) Kondash ( andrew.kondash@duke.edu)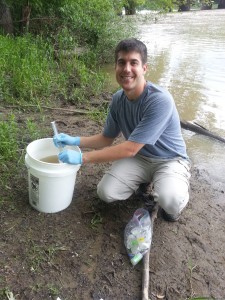 AJ's research aims to find cleaner, alternative water sources for hydraulic fracturing, making the fracturing process more efficient, and helping industry develop safe and effective waste-water treatment options. Recent projects include examining the potential uses of acid mine drainage as a fracturing alternative or pre-treatment additive and the sampling of commercial water treatment plants to assess pollutant removal efficiency.
Rachel Coyte  (rmcoyte@gmail.com)
Rachel research is focused on studying water quality issues in different aquifer systems worldwide (Rajasthan, India; North Carolina, USA)
Postdoctoral researchers
Tewodros Rango Godebo
 Former graduate students
Brittany Rose Merola (2010-2014) Research topic: Biomarkers of exposure: Arsenic concentrations in keratin in populations exposed to arsenic in drinking water
Research topic:
Research topic: The geochemistry and isotopic characterization of coal ash and its impact on the environment.
Hadas Raanan (PhD, 2005-2011). Research topic: Radium isotope geochemistry as a tracer for groundwater-surface water interaction.